St Luke's Home Newsletter
September 2020
CEO Report
I hope everyone is staying healthy. Once again, I am pleased to announce that NO Elder at St Luke's Home has tested positive for COVID-19. Our early restriction policies and stringent cleaning practices have kept everyone healthy. On August 28, 2020, the Arizona Department of Health Services released COVID-19 Guidance for Visitation at Congregate Settings for Vulnerable Adults and Children. Although I am grateful for Governor Ducey's Long Term Care (LTC) Task Force recommendations on reopening LTC communities and introducing face-to-face visits with loved ones, there continue to be questions about the recommendations. St Luke's Home will continue to research guidelines and maintain all current practices while re-evaluating the recommendations weekly. At this time, due to the Pima County loosening restrictions, as well as Labor Day weekend, I want to ensure that St Luke's Home continues to take all necessary precautions to keep our Elders safe and healthy.
With this being said, once again, St Luke's Home was ahead of the curve with understanding the need for Elders to hug loved ones, even before the LTC Task Force recommendations were out. I truly believe the Hug Tunnel was exactly what the Elders needed after five months of no physical contact with family and friends. I want to thank our donors who provided the funds to build our Hug Tunnel. Your gift truly made a difference in the lives of our Elders and their families.
Lastly, I ask you to save the date, October 3, 2020, for our live-streaming of the First Annual Silver Chef Culinary Competition from 12:30 pm – 2:30 pm. I ask you, my friend of St Luke's Home, to participate in this fundraiser. It will be the most fun-filled fundraiser ever, complete with recipes, raffle, and stories – all from the comfort of your own home! Last year, we were hit hard by canceling this fundraiser as well as the Baile. This year, we need to raise funds more than ever to support the gap of what an Elder can pay to live at St Luke's Home and the cost of operations. I hope to "see" you at the event.
Hug Tunnel
By Marilyn Gustin, President
Elder Council Advisory Board
Among the many gifts that Elders at St Luke's Home receive, the latest is the Hug Tunnel. What a treat for Elders who haven't seen, much less hugged, loved ones for six months! I was honored to have the opportunity to talk with the many Elders who received a heartfelt hug from loved ones. I am glad to share some of the stories I heard.
"Feeling my grandson's strong arms around me was completely wonderful—tears flowed. And you know I don't cry."
A couple of hours after her tunnel visit with her daughter, one Elder was still tearing up. "It brought so much joy! I hadn't realized how much I missed hugging her. It brought light and gladness back into my heart."
Another Elder's face lit up with delight. Usually taciturn, she exclaimed, "I liked it! It was so nourishing! It makes these days a bit easier now."
"It was wonderful! It's been so many months since I've hugged my son. I said to him while we were hugging, 'This is what I've so been missing.' And he said, 'Me too, Mom, me too.' It just filled me up with joy."
"It was great! I wish everyone in the House could experience it—that's how great it was! It was with my niece and nephew—I'm in phone touch all the time, but there's nothing like presence and touch!"
"My dearest friend of nearly thirty years came and that hug was worth a million to us both. No words are quite enough to express our delight."
So we all send a big "thank you" to staff for making it happen and to donors who made it possible.
In case you missed it, see St Luke's Home on the news.
Silver Chef Culinary Competition
Saturday, October 3, 2020
12:30 pm – 2:30 pm
Live Stream
www.stlukeshometucson.org\silver-chef
Move over Iron Chef! We are looking forward to our first-ever St Luke's Home Silver Chef Culinary Competition. This competition is between executive chefs of assisted living. We are going to be live-streamed because this keeps all competitors, judges, and staff safe. However, prepare to be wowed by the wonderful hors d'oeuvres, the chefs, the recipes, the assisted living communities, as well as the information being shared by renowned Dr Melvin Hector from the University of Arizona–Banner geriatric department! You will also have a chance to vote for your choice for the People's Choice–Best Presentation Award! You may vote as many times as you wish for your favorite chef. You will be able to watch as the local celebrity judges taste the offerings from the competitors–all vying for the beautiful Silver Chef Trophy, the $2,500 purse, and bragging rights for a full year.
We are so pleased to have the following elite celebrity judges to help us with this event:
Paul Durham (Tucson City Council); David Fitzsimmons (AZ Daily Star); Wendy Gauthier (Chef Chic); Don Guerra (Barrio Bread); Lupita Murillo (KVOA); Colleen Bagnall-Perra (University of Arizona); Devon Sanner (Downtown Kitchen); Bruce Yim (Hacienda del Sol).
Silver Chef Raffle Prizes – A Sneak Peek!
$10.00 each or 6 tickets for $50.00
One Winner Only! Choose one of many fabulous prizes!
On October 3, 2020 at 12:30 pm go to www.stlukeshometucson.org/silver-chef and buy your raffle tickets! Only one ticket wins – your choice of the following items.
Historic U.S. Flag – January 20, 2009 was truly a special day in U.S. history as Barack Obama was sworn in as the 44th president of the United States. To celebrate this historic moment, Congresswoman Gabby Giffords had this flag flown over the Capitol Dome.
Lute Olson – What can you say about Arizona basketball Coach Lute Olson? This Wildcat 2000 basketball is personally autographed (JSA certificate of authenticity) and its biography are reminders of a man who has left a major mark on this community.
Opal Earrings set in Gold – Nothing says fun and elegance like a splash of vintage 18K gold…and these special opal earrings hit the mark!
Other prizes include – Signed Arnold Palmer PGA Championship Oak Hill ballcap, 40 lb amethyst geode, 16 x 20 framed photo of beautiful Niagra Falls, Four Fox Theater Event Posters signed by famous Country Singers, personally autographed Sports Illustrated cover pieces of baseball legend Ted Williams, 48-inch air hockey table, 14k gold chain necklace, and Warner Brothers Studio Postcard featuring Ronald Reagan as an actor – long before he entered politics and became the President of the United States.
All items donated by SLH Board Member Dan Cavanagh and Lloyd Construction Company Inc.
Delivery will take place within Pima County limits. Outside of Pima County, delivery and insurance costs will be the responsibility of the winner.
Rio's Corner
Rio here–investigative cap on and keen sniffer at the ready for another fine journalistic adventure. I interviewed the Development Director of St Luke's Home, Marie Reyna. We got to talking like old friends, and we came upon the topic of Heroes. Marie suggests that Heroes and Sheroes can come in different shapes and sizes, and by virtue of many types of behavior. They can be little, tall, older, or young, all can show compassion or bravery. I quickly added, they may even be of an entirely different species (Ahem, anyone ever hear of Underdog? RinTinTin? Lassie? That's right, you get my point.)
Marie notes veterans are Heroes even if they haven't received any medals. They are heroes simply because of their willingness to put themselves on the line for our freedoms. There are heroes who put themselves on the line every day–from firefighters and officers to our essential workers such as doctors, nurses, grocery staff, and others—especially during COVID. It reminded me of the kind words the Elders had for the staff who have been working at St Luke's Home during COVID, and not venturing out beyond work, to keep the Elders safe. That is nice, and our Elders have been safe because of it.
Marie shares you don't have to put your life on the line to be a hero to someone. Sometimes, it is an act of kindness or generosity. Marie told me a story of a young couple in Cleveland, in love, engaged to be married with their dream wedding planned and set. Then COVID came and those plans had to be scrapped for the greater good. The food for their desired 150 guests was already paid for, so they decided to donate the food to a women's shelter with children. After their very private marriage ceremony, with their dog as a "best man"- (these people are truly the best kind of people) these two lovebirds donned masks and gloves, and served food to all the residents and children. All of this kindness and service to others was lovingly given while still in their lovely wedding attire. The experience was so heartwarming for them, as well as the recipients, they plan to give a donation to charity on every one of their anniversaries. Gosh, they are heroes, just like Marie said.
Marie states that the wonderful friends and donors to St Luke's Home are heroes and sheroes. They make a difference here every single day, and they may not always see it, but they DO it ANYWAY! St Luke's Board members are our heroes too! (It's true! They are all good for a nice scratch behind the ear. You'll have to trust me on that.)
Marie also notes many of our Elders are retired heroes and sheroes. That really makes me choke up when I think of it. I told her I think they are that still to this day. God Bless the Everyday Hero.
Follow St Luke's Home on Social Media!
Thank you for supporting our Elders!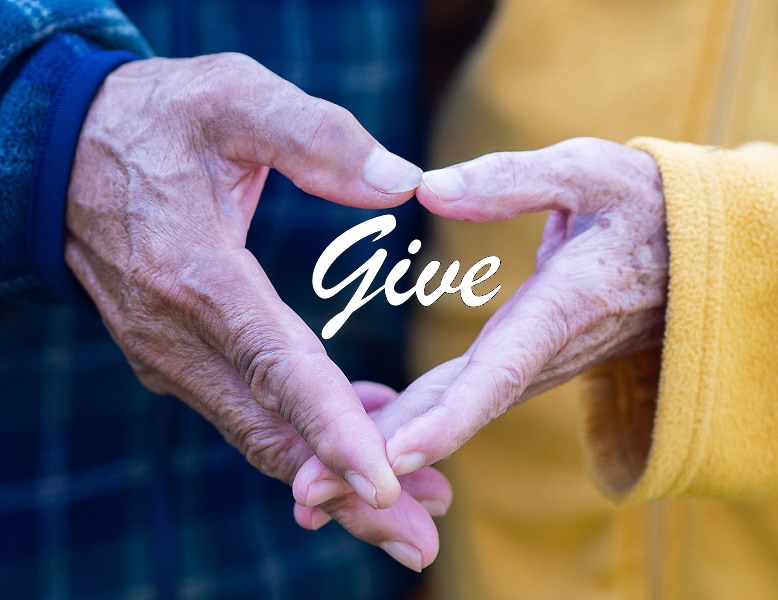 Your donations to St Luke's Home are deeply appreciated and easy to do.
Click on the picture above to make an on-line donation that supports the mission of St Luke's Home.
We appreciate your support!