St Luke's Home Newsletter
October 2020
First Annual Silver Chef Culinary Competition
Winner!
St Luke's Home is proud to announce the WINNER of the first annual Silver Chef Culinary Competition, our own Selina Miramontes! It was a very hot afternoon as executive chefs added the final touches to their delicious hors d'oeuvres. The star-studded panel of judges tasted each offering, scored each dish independently, and commented favorably about the offerings. Viewers of this fine event were able to vote for the People's Choice in Best Presentation, choosing Erich Border from the Hacienda at the Canyon as the winner. This year's competing chefs were exceptionally talented and a number of them had over 20 years of experience.
Thank you for your patience with the technical difficulties during the event. The event was amazing and we want to ensure friends of St Luke's Home will have the opportunity to watch the event as we had anticipated. You will not want to miss Dr Melvin Hector's presentation on having a conversation with a loved ones about assisted living care. We are currently reproducing the entire afternoon with the proper video and audio, so stay tuned! Be sure to check out the delicious recipes at www.stlukeshometucson.org/silver-chef.
Raffle winner congratulations go out to – Julia Martenson, who chose the Opal Earrings!

A huge St Luke's Home Thank You to the many great members of the Tucson community who made this event special. You demonstrate the great spirit of Tucson.
Sponsors
CareMore, The Forum of Tucson, Lloyd Construction, Arizona Computer Guru, Double R Promotions, Michelle and Duff Hearon, Kalil Bottling Company, Dan Cavanaugh, Trader Joe's, and Tom's Fine Furnishings and Collectibles.
Chefs
Erich Border of Hacienda at the Canyon, Michael Lopez of The Forum at Tucson, David McGehee of Copper Canyon, Selina Miramontes of St Luke's Home, and Jeremy Montoya of Via Elegante.
Judges
David Fitzsimmons of the Arizona Daily Star, Wendy Gauthier of Chef Chic, Don Guerra of Barrio Bread, Lupita Murillo of KVOA, Devon Sanner of Gastronomic Union of Tucson, and Bruce Yim of Hacienda del Sol.
Falls Prevention Awareness
Per the National Council on Aging, "Falls are the leading cause of fatal injury and the most common cause of nonfatal trauma-related hospital admissions among older adults. Falls result in more than 2.8 million injuries treated in emergency departments annually, including over 800,000 hospitalizations and more than 27,000 deaths." To address this issue at St Luke's Home, we scheduled a routine training for staff and Elders.
35 Elders and Staff participated in our second training of the year; Standing Together to Prevent Falls facilitated by the experts at Pima Council on Aging (PCOA). Due to COVID-19, many Elders are not walking as much and have reduced some of their common activities, such as going to a store or getting out to visit family members. PCOA experts provided helpful information covering the power of walking, hydration, medication complications, common trip hazards, and the basics for sustaining balance and strength. The Zoom event was coordinated as part of Falls Prevention Awareness Week by the National Council on Aging. To learn more about preventing falls, check out National Council on Aging's article about falls awareness here.
St Luke's Home Partners with Rotary Club of Tucson
As you may know, the Rotary Club of Tucson Annual Car Show has been cancelled this year. The funds of the Car Show would go to JTED and Make Way for Books. St Luke's Home is honored to be a community partner to help sell raffle tickets for the Car Show and support other local nonprofit organizations. Please email Cass at ceastham@stlukeshometucson.org or call (520)207-0805 to purchase the $5.00 raffle ticket. St Luke's Home will receive $2.00 of every ticket we sell. This opportunity ends at 5:00 pm on October 12, 2020. This is a great way to support St Luke's Home as we continue to be strong partners in the Tucson Community. For more information, check out Tucson Classics Car Show here.
Board of Directors Updates
We offer the best wishes and fondest farewell to our exiting board members! Robert Rezetko, Brian Bridges, Russell Burns, and Mindy Griffith. Thank you for your compassionate service and may your days ahead be joyful and trouble-free.
We also are pleased to welcome back Linda Wojtowicz, who returns to St Luke's Home Board of Directors! We are so glad you are here!
Amazon Prime Day Helps St Luke's Home
If you register with AmazonSmile and choose St Luke's Home, much of what you purchase has Amazon send a little bit of money to St Luke's Home at no additional expense on you!
You can make a difference while you shop Amazon Prime Day deals on October 13 & 14. Simply click the link below to set up St Luke's Home in the Desert Inc as your chosen charity.
Click here to choose St Luke's Home as your Amazon Smile charity.
Thank you for supporting our Elders!
Rio's Corner
Hi there, newshounds! Rio here sniffing out the best stories from St Luke's Home. You know, I was lying in bed the other day, kind of sleeping in, pondering which story to write about to share with you, my loyal readers. And it hit me! Tooth pain, well maybe not just tooth pain, although that was what I was feeling, but pain in general. We've all had to deal with pains in the body, at one time or another in our lives, but I've found great ways to deal with pain that actually helps. Let me back up a bit. You see, as I've gotten older, I started experiencing new changes, you know…I started putting on a few extra pounds, graying at the muzzle, moving a bit more slowly, and I began to have a few more health and dental issues than I did as a pup. Now, mind you, I don't feel my chronological age, exactly. I am as great as I ever was!
Still, there have been changes. As I've gotten older, the changing metabolism has led to fewer treats. I admit I miss the days when I had my humans trained to give me a treat with just a look. Human Pez dispensers, they were! Gosh, I miss that! But when there are fewer treats, I tell myself they just love me and want to make sure I live a long, healthy life. I give them the "look" and if they don't give me the treat, I say to myself, "Boy oh boy, aren't you loved, Rio. Lucky Rio! Who's a good boy? Loved, loved, loved". (Honestly, you could love me a little less, people!)
And another thing, YES, I am graying with aging. In particular, my muzzle almost looks like I've enjoyed a great dish of vanilla ice cream. I think it makes me look distinguished. Professor Rio…Dr Rio…Judge Rio…. I hope someday I will be full-on silver. As my favorite hero says, "Hi-Yo, Silver!" (I just know I'd be awesome at that.)
It's true: aging is not for wimps. Although the aches in my muscles and me moving slowly is a bit of an annoyance, in the great scheme of things, it's not that bad. I'm still movin'. I can still get down (getting up may take a bit longer, but I can do it!) Recovery from medical procedures, while not a picnic, isn't that bad. It may take me longer to recover than I used to. But I am still me! I still chase balls, eat things I am not supposed to, and enjoy a good scratch behind the ears. Perhaps most importantly, I still am capable of giving love and accepting love. And I have something those young whippersnapper pups don't have: Wisdom – borne from life-long experiences. It seems to me that's what all of us who are aging have to offer – love, valuable wisdom, grace, beauty, and inner strength. It is a beautiful thing to behold.
In Memoriam: Darlene Bartman

With heavy hearts we were saddened to hear St Luke's Home longstanding volunteer, Darlene Bartman, passed away on Monday, September 28, 2020. Darlene joined the St Luke's Home family as a Volunteer in 2005. Early on, she assisted Elders with writing letters and setting up appointments. During the past 10 years, Darlene answered the phones and welcomed guests to the Home while sitting at the front desk on Wednesdays and Fridays. She also donated the quarters for Bingo prizes and took pride in calling Bingo twice a week. She enjoyed eating lunch with the Elders on her volunteer days. Darlene's husband Bruce also become a member of the St Luke's Home family as he would drop Darlene off before he went to work. We will surely miss you, Darlene. Thank you for your on-going commitment to St Luke's Home.
Follow St Luke's Home on Social Media!
Thank you for supporting our Elders!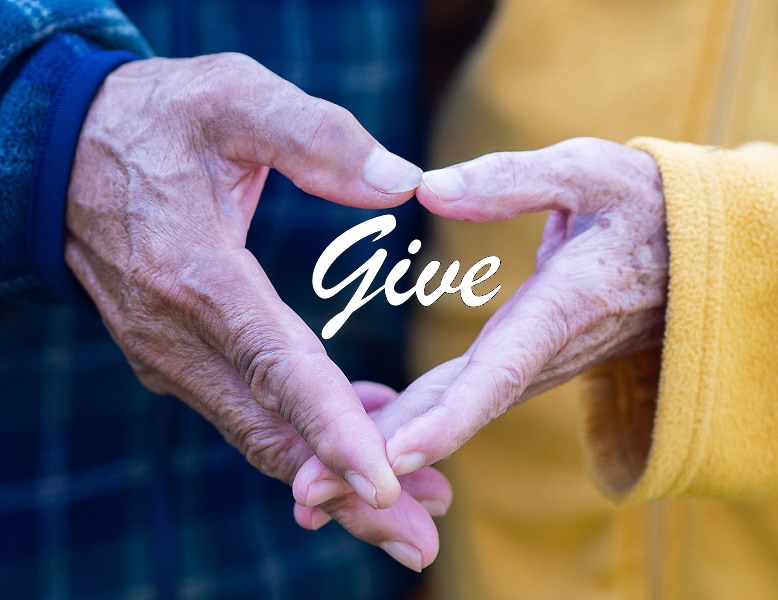 Your donations to St Luke's Home are deeply appreciated and easy to do.
Click on the picture above to make an on-line donation that supports the mission of St Luke's Home.
We appreciate your support!