St Luke's Home Newsletter
November 2020
Halloween was a Spook-tacular Day!
Elders and staff bonded over gobbling goodies, crooning tunes, and dizzy dancing at our Halloween Party this year, with Kidd Squidd as DJ and Selina the Head Chef as Captain COVID-Killer! It was a fiesta full of giggling ghouls, sweets, and superheroes, complete with lightsaber duels, Dracula vs Jason, and a poor piñata that did not survive the day.
University of Arizona Students Continue Supporting our Elders — Zoom style!
Over the years, the University of Arizona has remained one of St Luke's Home's most vital partners by enriching the physical and emotional health of our community. Typically, hundreds of faculty and students become part of our daily flow. It is a sight to behold when the halls are filled with chatter and laughter. They teach medication safety, lead nutrition Bingo, complete medical assessments, check rooms for fall risks, and engage in friendships with the Elders. Things are a bit different today, but a surprising number of students continue to watch over the Elders. They call to check in, send cards, and express that they miss us as much we miss them. The students of the College of Pharmacy touched base with the University's Interprofessional students to organize a newsletter program and recently hosted a Zoom Game of Name That Tune. Lead by Alison Weygent, the students researched music and built an amazing program. It was wonderful to see the smiling faces on both sides of the screen. COVID-19 may have the floor today, but it will not change the strong bonds that make us who we are. Thank you to Alison and all the students and faculty for your amazing support. Stay strong and safe.
Green Things Partners with St Luke's Home for the 2nd Annual Poinsettia Fundraiser
St Luke's Home will partner with Green Things once again to bring you the perfect poinsettias and help St Luke's Home at the same time! This time pick your poinsettias directly from the grower in person or on their website:
3384 E River Rd Tucson, AZ 85718
520-299-9471
https://greenthingsaz.com/st-lukes-home
The Green Things Elves created our very own landing page for St Luke's Home, including special certificates to inform Santa you support. You will be thrilled with the variety of beautiful and healthy poinsettias available this year! There are red jubilee poinsettias for a traditional look or polar bear white poinsettias for a snowier décor. There are also pinks, reds, whites, and even golds from which to choose.
Thank you for thinking of our Elders at St Luke's Home and Happy Decorating!
In case you missed it
Silver Chef Culinary Competition Video
Thank you for your patience for our technical difficulties during our Silver Chef Culinary Competition Event live-streamed on October 3, 2020. We worked hard to recover the audio and piece together this video for you to enjoy. There are some voiceovers in the content, but the video still captures the fun and excitement of that wonderful day.
Thank you to our Sponsors, Judges, Participant Chefs, and St Luke's Home staff for teaming up to make this event so successful. We appreciate everyone who voted, bought raffle tickets, and donated to this great cause. Thank you from all of us at St Luke's Home. Click below to watch full video on YouTube.
Use St Luke's Home for your Arizona Tax Credit
St Luke's Home in the Desert Inc is an Arizona Qualified Charitable Organization (QCO) and your gift may entitle you to a credit up to $400 as an individual filer or $800 as a married couple on your Arizona State Tax Return. Our Qualified Charity Code is 20211. If you haven't already taken advantage of this wonderful credit, please keep the Elders of St Luke's Home in mind.
Rio's Corner
Rio here! It is time for a change of season. I am beyond ready. The Old Pueblo has been rather hot this year–more so than usual–just ask any meteorologist. I confess–I love brisk weather. That is when my fur coat is especially nice. Brisk early mornings delineate the change of season for people too. Warm bedcovers encourage a bit of cozy sleeping in. The smell of hot coffee and the taste of warm breakfasts bring smiles to faces, and preparations for the season begin.
Fall marks the season of gratitude and directs us into the season of peace, hope, and love. It doesn't matter whether or not we have the beautiful fall leaves of Maine or Vermont. There is a true change that happens inside ourselves, if we allow it, to focus on the many gifts we have and be grateful. Soon, Thanksgiving will be here. We here at St Luke's Home have family and friends for whom we are very grateful, not just outside of this property, but within the very walls of these historic grounds. We have new-found friends in each other, staff, and those we don't see as much as we did in the pre-COVID days, such as our many volunteers, donors, and the Board of Directors. Whether seen or unseen, we know they are there for us! For those of us with a safe home, food on the table, the ability to meet our needs, and loved ones who care, let us be truly appreciative of these blessings. And let us not look away from those who have few or none of these things.
Happy Thanksgiving, my friends. No matter where you are, may you always be able to see and appreciate your blessings. Thanks for being a blessing to St Luke's Home.
Warm Hugs and a "high paw",
Rio
Follow St Luke's Home on Social Media!
Thank you for supporting our Elders!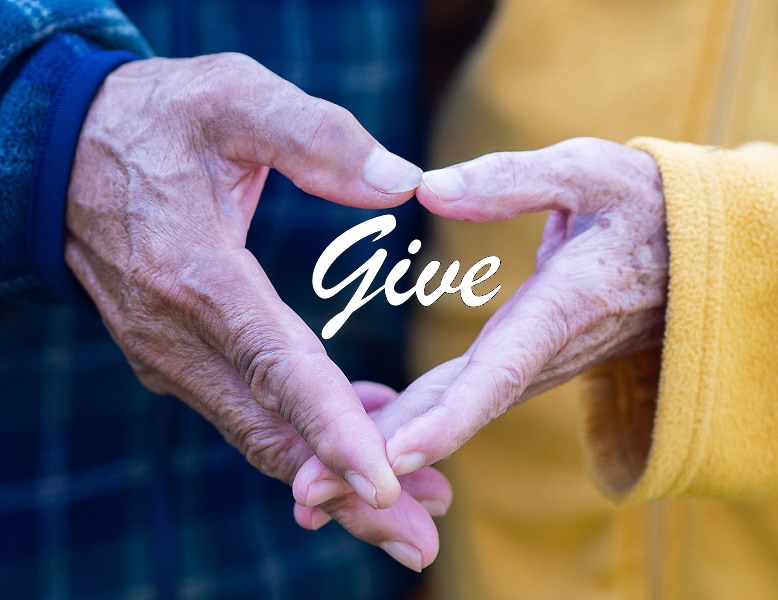 Your donations to St Luke's Home are deeply appreciated and easy to do.
Click on the picture above to make an on-line donation that supports the mission of St Luke's Home.
We appreciate your support!