St. Luke's Home Newsletter
November 2019 
   Photo by Karen Wright
Don't Look Away!
Sunday, November 10 at 2:30 pm to 4:30 pm
St. Luke's Home
Join us in celebrating the beauty of our Elders who call St. Luke's "Home." Remarkable photographers Kathleen Dreier, Martin Mongan, and Karen Wright share their work of honoring the grace of aging. The result is 24 Elders sharing their stories through a powerful visual composite; honoring our Mission: To provide quality-of-life for low-income Elders to age with dignity in an assisted living community. Join us for a lovely afternoon of breaking down the walls of Ageism. Please Don't Look Away from the value, wisdom, and contributions of our Elders. 
Save the Date! – Baile de Gracias
 Saturday, April 4, 2020, 5:30pm
Mountain Oyster Club
In 1917 Bishop Atwood invited 26 women to form a board to visit and assist with obtaining funds for St. Luke's Home. The women accepted the Bishop's charge, and the Board of Visitors (BOV) was developed. Last spring the BOV celebrated the 100th Baile de las Flores to support St. Luke's Home.
We are excited to carry forth the dedication of the Board of Visitors and the tradition of the Baile de las Flores into the next century. St. Luke's Home will be hosting Baile de Gracias – giving thanks to the Board of Visitors, St. Luke's Home's first century of service, and continued gratitude for another 100 years.
United Way – Days of Caring

Thank you to Geico and UA Eller College for volunteering on Saturday, October 26 for the United Way Days of Caring Event! Geico provided 10 volunteers who cleaned out a storage closet and lots of windows, fixed dining room chairs, sorted the books in the library, and carefully moved our artwork to prepare for the upcoming Don't Look Away Photo Exhibition. Eller College volunteers got their hands dirty with landscaping work to clear away the weeds and raking up dead brush. St Luke's Home shines because of your hard work!
Welcome New Board Of Directors!
St. Luke's home welcomes four new members of our Board of Directors!
Lisa E. Davis, born in Pennsylvania, is now a true lover of the Arizona desert. Lisa served in the United States Army and earned a Bachelor's of Science in Criminal Justice and a Master's of Science in Industrial and Organizational Psychology from Grand Canyon University. Lisa's experience surrounds the criminal justice field, Department of Defense contracting, and child welfare in the state of Arizona. Lisa's hobbies include service to others through volunteerism and community action boards. Lisa shares her gratitude to become a new member and supporter of St. Luke's Home.

Allie Matthews is a native Tucsonan with 43 experience working in the school system and public sector. As a second career, Allie is the Risk Management Administrator for the City of Tucson. Allie has served in various volunteer capacities at the National, State, and local levels. She continues to remain a mentor for the Educational Consultant and Presidential Advisor. Her interest in volunteering began in 1978 while serving as a Board member of the United Way Cite-Sac Committee. Currently, Allie serves as a board member of the Tucson United Self Insurance Trust Board.
Nicole Wampler is a native Tucsonan with a passionate heart for community service. She graduated from the University of Arizona, Eller College of Management in 2017 with a BSBA in Accounting. She brings her experience in both private and public accounting as well as her non-profit audit expertise to St. Luke's Board. In her free time, she enjoys hiking, biking, and spending time with friends and family.
Simon J. White is the Assistant Dean of Finance and Administration at the UA College of Architecture, Planning, and Landscape Architecture (CAPLA). Simon has worked at The University of Arizona for 20 years in a variety of departments holding financial and business positions. Originally from the United Kingdom, he came to the United States in October 1997 after he met his wife, Winnie, in New Zealand. In his spare time, Simon enjoys spending time with his 17-year-old daughter, Anna, going to the Tucson Racquet Club, and traveling with his wife.
St Luke's Home on Social Media!
St Luke's Home is rapidly increasing our social media presence. Find us on your favorite site by clicking the links below. Please share with your friends, family, and colleagues. St. Luke's Home has so many exciting updates and beautiful treasures to post. 
Increase donations to St Luke's Home by selecting us as your preferred charity on Amazon! Click the link above to choose St Luke's Home as part of your Amazon account, and Amazon Smile will make a small donation for each of your qualifying Amazon purchases.
Thank you for supporting our Elders!
Rio's Corner
Hi Everyone! I am excited about the increase in social media at St. Luke's Home as I often get to be in the photo! This month I let Daisy Mae get frontstage on Facebook to wish her a happy hibernation. I often think about how lucky I am to live here and wonder I get to be part of St Luke's Home. I discovered it is because St. Luke's Home follows the Eden Alternative® model of care. The Eden Alternative® philosophy is about moving away from institutional care and towards a home-like model of care, focusing on the care of the human spirit as well as the human body. Everyone deserves easy access to human and animal companionship. This means Daisy Mae, myself, and our feathered friends get to live here too! This means the Elders get to have pets in their rooms. This means we have beautiful courtyards and open areas to relax, play cards, or visit with others. This means we participate in intergenerational activities and events that are meaningful to us. This means we are Elder-Centered and our voices are heard – we get to make decisions about the Home. St. Luke's Home truly follows the Eden Alternative® model of care in their works to prevent the three plagues: loneliness, helplessness, and boredom. It is a great place to live! I want to wish everyone a Happy and Peaceful Thanksgiving. I am grateful to St. Luke's Home and YOU!
St Luke's Home — Upcoming Events
Truly Nolen Community Car Show – Come see us at our St Luke's Home tent. 432 S Williams Blvd in Tucson. Saturday, November 9, 10:00 am to 2:00 pm.
Don't Look Away Art Exhibition – Sunday, November 10, 2:30 pm to 4:30 pm
Special Veteran's Club – Monday, November 11, 2:00 pm to 3:00 pm
Town Hall Meeting – Tuesday, November 12, 2:00 pm to 3:00 pm
Elder Birthday Party – Thursday, November 21, 2:00 pm to 3:00 pm
Thanksgiving Dinner for Family and Elders –

Wednesday, November 27, 12:00 pm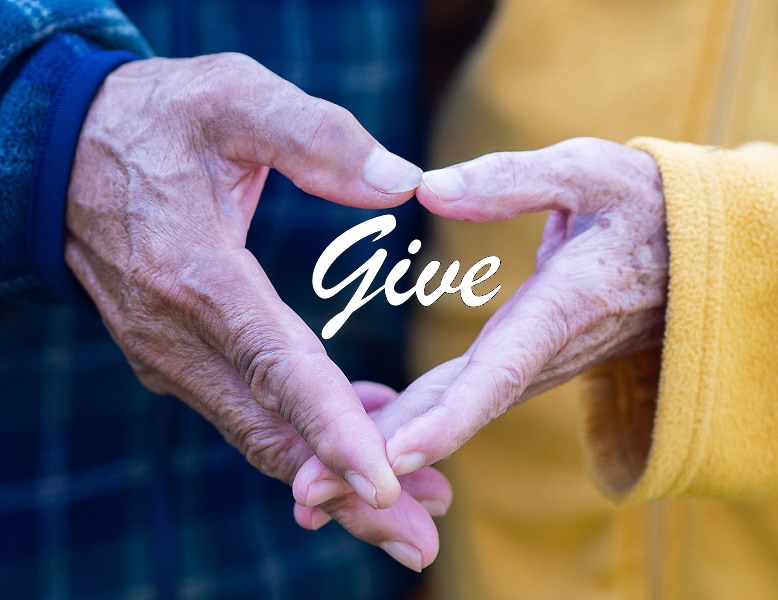 Your donations to St. Luke's Home are deeply appreciated and easy to do.
Click on the picture above to make an on-line donation that supports the mission of St. Luke's Home.
We appreciate your support!