St Luke's Home Newsletter
June 2020
CEO Update
Today represents day 92 of St Luke's Home restriction from the greater Tucson Community. Every day our essential workers come to work and care for the Elders and the Home. As I began my CEO update, I realized what I wanted to say about these essential workers is best captured by two of our Elders:
"Thank you for your service" We say this to the men and women that defend our country. Now we say this to you for defending our lives. You might not be dodging bullets, but you are beyond a doubt putting your lives in danger to keep our home as safe as you possibly can. Since we moved into this place you have shown us your concern and dedication to truly making it our home. Not only have you provided us with food and shelter but you have addressed our needs on all levels; physical, mental and spiritual. Because of the respect you have shown us, it has allowed us to retain our dignity. We realize that every time you leave the comfort and safety of your home you are putting your life on the line. For this we are forever in your debt. Thank you and God bless you, Virginia
As a result of my 14 day quarantine recently I became more aware of just how wonderful, gracious and thoughtful the entire staff has been, also those who set and help carry out the regulations for our safety and care. So may we all look for that glimmer of HOPE we can see at the end of the tunnel bringing us a safer, healthy and brighter future. "Freedom is sweet although comes with a price." Many thanks from Berta
I am proud to announce we have started testing all of our employees for the Covid19 virus on a regular schedule. TODAY WE CONTINUE TO BE COVID-19 FREE!
Stay well, my friends.

Drive Around Parade!
It was a beautiful, sunny Thursday morning as Elders and Staff cheered and welcomed over 60 vehicles filled with friends, families, volunteers, and supporters of the St Luke's Home. Balloons, posters, and signs cheered our Elders as well as our parade participants! Horns were honked, cheers rose up, waves and blown kisses were the norm. The parade was led by the Tucson Police Department followed by Parade Marshall Council Member Paul Durham. Thank you to the Classic Chevy Club of Tucson for joining our parade! The parade brought many smiles and happy hearts as these friends of St Luke's Home, both human and canine, came to send their love and well wishes to the Elders here! We even made the KOLD13 evening News! We are stars! Click here to watch the clip.
Summer Spirit Week
Monday, June 15 – Friday, June 19
St Luke's Home Elders and Staff enjoyed our amazing Spirit Week in April so we decided to do it AGAIN!! Please join us and send photos to Cass Eastham at adminassist@stlukeshometucson.org.
Spreading out and Having Fun!
Innovation is key to creating safe ways to utilize our space and be together. In doing so, we added an incredible live music venue in our lovely courtyard. Members of our longtime supporters, the Banjo Blasters, have been serenading us with early morning music. Our spacious, shady courtyards are perfect for getting out in nature. There is nothing quite like the sound of Tuba music to get you out of bed! Thank you Marj, Sherry, Sly, and Dallas.
Be On The Lookout!
As we wind down our fiscal year, we want to take this time to thank all our friends, families, community members, and wonderful supporters. We know St Luke's Home is built on family. We not only love our Elders, but we love the community for the great care and tenderness we receive from you to continue our mission. We know each of these Elders here at St Luke's Home is a loved one, a mentor, a coach, or a teacher to someone else in this world. There is a saying that to the world you may be just one person, but to one person you may be the world. Our spring annual letter is out now. Please be that one person to a deserving Elder at St Luke's Home. We truly appreciate your support, especially during this very difficult time of the COVID-19 crisis. You can donate via the envelope enclosed in your annual appeal letter or click here to donate online and note that it is for the Spring Annual Appeal.
Amazon Smile
As a reminder, Amazon Smile is a charity initiative and convenient tool associated with your Amazon shopping account; one that needs no additional cost or agreements from you. Shop as you normally do on Amazon, and Amazon Smile will donate 0.5% of the sale price of eligible items to support St Luke's Home. Thank you for supporting our Elders!
Click here to choose St Luke's Home as your Amazon Smile charity.
Rio's Corner
Rio Meets the New Director of Operations
Rio here, digging up dirt, and sharing the news you want to really want to know. There's so much going on in the world especially at St Luke's Home. I will share the big scoop. We have a new Director of Operations, Yurey Palisbo, and he was nice enough to share a few minutes of his busy time with me, Rio, wonder-dog extraordinaire, and the ever-curious, cub reporter.
Yurey was born in rural Southern Philippines. He states he recalls fondly the simplicity of life there and mentions hoping to someday retire back in the Philippines. We talked about family and I shared I don't know about my littermates or where they are but Yurey says he is a middle child and he knows where his family lives. You know what they say about middle children… They are the peacekeepers, agreeable, loyal, and sociable. They get along with everybody–guess I must be a middle born too. Yurey has an older brother and a younger sister who both live in different states with their families. Although he has no children, Yurey states he has fur babies – a Persian cat, Benji, and an Imperial Shih Tzu, Singer. Well, anyone who is an animal lover is alright by me!
I find myself more and more impressed with this new director guy. When I asked, "Why St Luke's and why Eldercare?" he stated he was interested in non-profit work and the idea of how philanthropy can help Elders in real and tangible ways, and how donors can have an impact. As to working with Elders—Yurey has always worked in assisted living, memory care and the like. He states he loves connecting to people and knowing he has made a difference by sharing music or what have you to reach people. He says the work is so gratifying. He likes karaoke with Elders! I can't wait! I'll have you know, I have the moves of Elvis and a voice like Michael Bublé. (But I'm shy about it, so I may not show you.)
Finally, I then pulled out the big guns to find out the questions I was most interested in: namely favorite snacks and mischief as a kid. Can you believe he said he wasn't picky about snacks and he'd eat almost anything, and then told me he usually goes for vanilla yogurt? Y-O-G-U-R-T! (Seriously dude, right? Barring allergies I say go for something with some flavor in it. I'll share some Scooby Snacks and see what he says then). Yurey also said he was a pretty good kid so he never got into any mischief. Hmmm. Well, I plead the fifth. When I asked Yurey if there was anything he wanted our readers to know about him, he said, "I'm fabulous!" Tell it like it is, Yurey, tell it like it is.
Photo by Martin Mongan
Happy Fathers Day, Everyone!
Follow St Luke's Home on Social Media!
Thank you for supporting our Elders!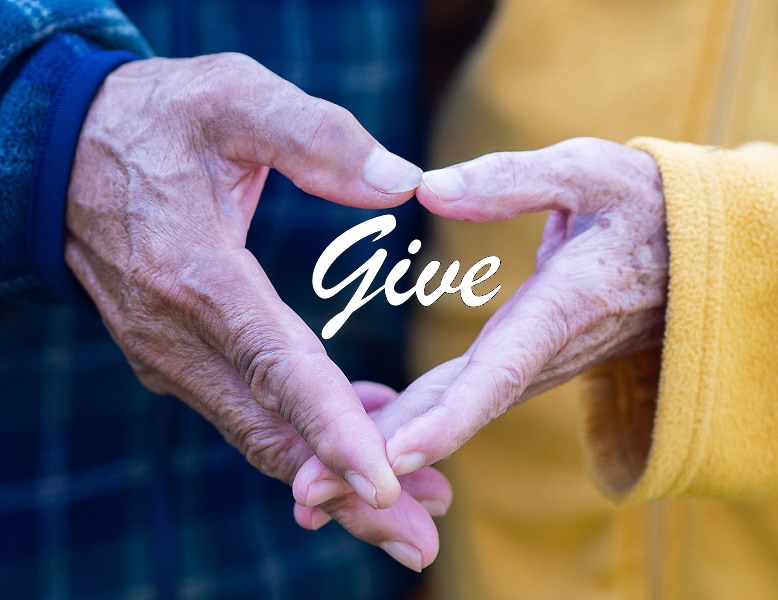 Your donations to St Luke's Home are deeply appreciated and easy to do.
Click on the picture above to make an on-line donation that supports the mission of St Luke's Home.
We appreciate your support!