St. Luke's Home
May Newsletter
  St. Luke's Collaborates to Expand Regional Elder Housing and Care Options
St. Luke's is working closely with elected officials, city and county housing leaders and other Elder organizations to explore and help drive solutions to the region's scarcity of housing options for low-income Elders.
A second Community Forum on Affordable Senior Housing was held on April 16, 2019, at the El Pueblo Center. St. Luke's CEO Linda Hollis, moderated the panel (pictured far right in lower picture) that included Council Member Regina Romero, Council Member Richard Fimbres, Marcos Ysmael, Pima County Housing Program Manager and Keith Gregory, Interim Director City of Tucson Housing Department.
The more than 50 attendees included Elders struggling to obtain adequate, affordable living and care options, developers eager to participate in creating solutions and members of the Elder Alliance.
St. Luke's Manager of Programs and Grants Sally Krommes serves as the chair of the Housing Action Team of the Elder Alliance. She noted, "We are excited to see the entire community come together to create more options for Elders in our community. Together, we can make certain that all Elders have affordable and safe places to live."
PCOA Offers Action Alert Line

Pima Council on Aging provides an Action Alert Link on its website so citizens can weigh in on critical Elder-service needs in the region. Click on the link below to understand, and weigh in on, the Elder issues PCOA is tracking. Voice your opinion through a form letter that is included or use your own words.
https://www.pcoa.org/how-you-can-help/advocate/take-action/#/
Among the issues being tracked: the Tucson City Council this week approved a resolution to adopt the Age-Friendly Tucson Plan, the latest step in a multi-part process that Tucson began in 2017 to secure designation by AARP as an Age-Friendly City. The designation also carries the imprimatur of the World Health Organization and would make Tucson the first city in Arizona to be recognized for its focus on aging citizens.
Elders Presented with Bound and Beautiful Life Stories
St. Luke's Elders, pictured above with UA graduate students in psychology, were presented with beautifully bound books that included pictures and special stories shared by our Elders and written up by the students as part of a UA project on older adults.
UA Psychology Department's Dr. Elizabeth Glisky served as Principal Investigator of the initiative that examined "inter-generational social interactions between older and younger adults." Twenty UA undergraduates from the psychology department participated in the project where Elders partnered with two undergraduate students for three consecutive weekly meetings.
St. Luke's Elders eagerly stepped up to share their stories and were thrilled to see their lives in print. As Judy stated, "My life seems so much more official now." And Margaret, who has a large extended family in Tucson, said, "I can't wait to share this with my brother and son!"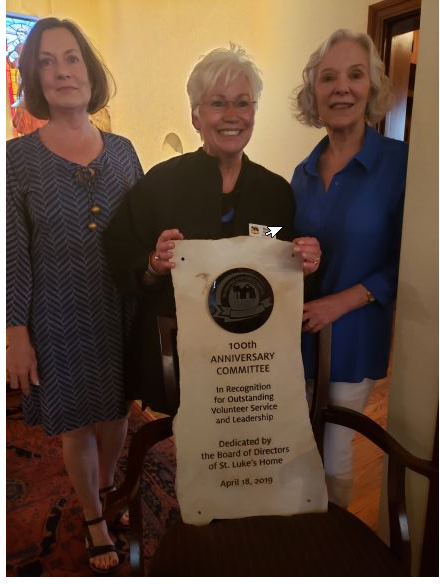 100th Anniversary Committee Recognized by Board of Directors at Annual Membership Meeting
The 100th Anniversary Committee was recognized for their outstanding leadership and volunteer service at St. Luke's annual membership meeting that was held on Thursday, April 18. Nancy Nagle, president of the St. Luke's Board of Directors, holds the stone-etched award that will be placed in one of St. Luke's gardens. She is joined   by members of the Board of Visitors Becky Henne (left) and Margo Belval (right).
The100th Committee, chaired by Mary Greene, worked for three years to conceive, organize and present a range of events celebrating St. Luke's in the Desert's 100th anniversary, including the highly successful 100th Baile de las Flores that was held on April 6.
Happenings at St. Luke's Home
Mark Your Calendars!
Volunteer Appreciation Event: Monday, May 13, 4:30 – 6 PM, St. Luke's Home.

Chess Expert's Challenge to the Elders: Sunday, May 19, 1:30 PM St. Luke's Dining Room.
Your donations to St. Luke's Home are deeply appreciated and easy to do. Click on the donate button pictured above to make an on-line donation that supports the mission of St. Luke's Home.
We appreciate your support!