St Luke's Home Newsletter
March 2020 
Don't Forget to Buy Your Tickets!
St Luke's Home Fundraising Events are Around the Corner!
Silver Chef Culinary Competition — Saturday, March 21
Our First Annual Silver Chef Culinary Competition is on Saturday, March 21, 2020, from 2:00 pm to 4:00 pm at 615 E Adams St Tucson, AZ 85705. Taste the finest hors d'oeuvres crafted by an elite group of Executive Chefs that serve Assisted Living communities. Enjoy live music by Mesquite Shade. Our judges this year are Wendy Gauthier, the 2019 Iron Chef of Tucson; Lupita Murillo of KVOA; and the Honorable Richard Elias from the Pima County Board of Supervisors. Tickets are $25 per person. Purchase tickets online at stlukeshometucson.org, call Cass Eastham at (520) 207-0805, or pay at the door. We look forward to seeing our friends there!
101st Baile de Gracias — Saturday, April 4
The 101st Baile de Gracias will be at the Mountain Oyster Club, 6400 East El Dorado Circle on Saturday, April 4, 2020, at 5:30 pm. The evening will include entertainment, dinner, no-host bar, Wheel of Wine, and a live auction. Tickets are $150 per person. Purchase tickets online at stlukeshometucson.org, or call Cass Eastham at (520) 207-0805.
St Luke's Home Spring Cross Country Classic — Saturday, March 7
There is still time to register for the St Luke's Home Spring Cross Country Classic 5K Run/Walk, this Saturday, March 7, 2020, benefitting St Luke's Home. This is a fun-filled route through the scenic, rolling trails of Lincoln Park at 8116 E Escalante Rd, Tucson AZ, with the first race starting at 7:30 am. There are separate races for men and women as well as a co-ed fun walk. Thank you to the Southern Arizona Roadrunners for this wonderful partnership. Visit St Luke's Home Spring Cross-Country Classic 5K for further details and to register. We anticipate a beautiful day in the park.
Collaboration with Pima Community College
Expands Stronger, Longer Services
St Luke's Home continues to expand partnerships throughout the Tucson Community. Four students from the Fitness and Sports Sciences Department at Pima Community College have begun meeting with seven Elders. Every week, the students develop personalized daily activity plans to help Elders build strength, balance, and emotional well-being. The Stronger, Longer program focuses on improving health and wellness for our Elders by concentrating on three key areas: nutrition, physical activity, and providing cognitive vitality. Our very own Elder, Virginia, is pleased to have an opportunity to train with the students. She works with light weights to strengthen her arm muscles and better navigate in her wheelchair. Well done, Virginia!
St Luke's Home Elders and Staff Cheer on
UA Women's Basketball Team to Victory!
A GIANT Thank You to St Luke's Home's Board President, Michael McCrory, for supplying free tickets to Elders and staff to attend the University of Arizona women's basketball game on Sunday, February 16. Five Elders and two employees enjoyed hot dogs, popcorn, sodas, and laughter as they cheered on the Wildcats. University of Arizona won 72 – 57 against Washington State. Go Wildcats!
Inter-Professional Education Program Tackles Falls Prevention
New 2017 research shows fatal falls increased to over 26,000 falls in Elders age 75 and older. To ensure our Elders are equipped with good fall-prevention tips, St Luke's Home presented an amazing workshop in collaboration with our UA partners. After the presentation, students met individually with Elders and reviewed their risk areas. Elders and family members learned to monitor dizziness after changes in medications, and that causes of falls can be attributed to dehydration, smoking, and high sodium levels. Special thanks to Dr Lee, Dr Self, Dr Mendoza, Dr Sanguineti, and the fantastic student team for tips on staying strong!
2019 Arizona Tax Credit —There is still time! 
There is still time to earn your 2019 Arizona Tax Credit by donating to St Luke's Home. St Luke's Home in the Desert Inc is an Arizona Qualified Charitable Organization (QCO) and your gift may entitle you to a credit up to $400 as an individual filer or $800 as a married couple on your 2019 Arizona State Tax Return. Our Qualified Charity Code is 20211.
Rio's Corner
Hello everyone! 
I often write about the Home and the Elders, but this time I wanted to share what I learned from our CEO about how I became Rio, the best kind of pet! Dogs have been in the domestication process for approximately 12,000 years, starting with the taming of wolves in their natural habitat. Humans fed the wolves, and as the wolves became accustomed to human contact, humans eventually started capturing and cuddling the young pups. Humans began to choose pups with desirable characteristics and selective breeding began leading to the evolutionary path from wolves to dogs. The domestication of dogs was later linked to status, class, and power. By the 19th century, dogs were viewed as virtuous and morally superior to humans because dogs were naturally loyal, courageous, and brave.
During this time, dogs had also been closely associated with healing. In ancient Egypt, the dog-headed Anubis guided souls of the dead to the underworld (because we are mostly brave).
The dog was the sacred emblem of the goddess Gula, the great physician; and Marduk, god of healing and reincarnation. Asklepios, the son of the Greek god Apollo, god of medicine, was often illustrated with a dog. I mean, who wouldn't want their picture with a dog? During the Christian era, there were many saints associated with dogs who had reputations as healers, including St Christopher and his Saint Bernard. 
This is, of course, the human version of this history. I think my ancestors just gave the humans the look. You know 'the look': tilted head, ears up, puppy dog eyes… works every time! I think us dogs were the ones who domesticated humans into becoming providers of love, food, and companionship. Either way, I am sure glad I am a dog and the best friend of my Elders at St Luke's Home.
Love you all!
St Luke's Home — February Events
International School of Tucson Choir — Sings Irish songs on Tuesday, March 3 at 2:00 pm
St Luke's Home Spring Cross Country Classic 5K Run/Walk — Saturday, March 7 at Lincoln Park. Register here.
Veterans Club Meeting — Monday, March 9 at 2:00 pm.

Chess Club with Chess Champion Johnathan Martinez — Sunday, March 15 at 1:30 pm

St Patrick's Day — Serving a traditional Irish meal on Tuesday, March 17 at 12:00 pm 

Silver Chef Culinary Competition — Saturday, March 21 at 2:00 pm.  Tickets here.

Birthday Party with Mesquite Shade — Thursday, March 26 at 2:00 pm.
Follow St Luke's Home on Social Media!
Thank you for supporting our Elders!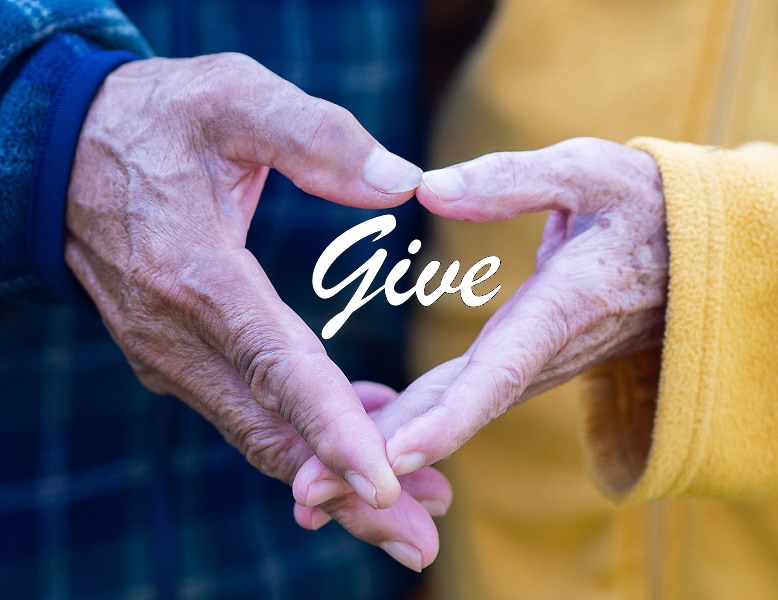 Your donations to St Luke's Home are deeply appreciated and easy to do.
Click on the picture above to make an on-line donation that supports the mission of St Luke's Home.
We appreciate your support!