St Luke's Home Newsletter
July 2020
CEO Update
A few months ago I began updating friends and families about our response to the COVID-19 pandemic. I took much pride in sharing our early restrictions, compassionate interventions, stringent cleaning processes, and being free of the virus. From those early moments, I have taken great satisfaction in our transparency. This will continue. Despite our best efforts, I am humbled to share that we encountered the Home's first exposure of COVID-19. Immediately after receiving the news of the exposure, we took prompt measures and tested all the Elders and re-tested all staff. From that exercise, all results came back negative. I am proud of our team and our current practices that indicate the exposure did not spread. Today, everyone is healthy. Moving forward, with the exponentially high numbers of COVID-19 spreading throughout Pima County, we are now testing our staff weekly. Our goal is to focus on the early detection of the virus. During this time, we have made the decision not to admit new Elders into the home in order to keep our current Elders healthy. This decision will prolong the considerable financial strains on St Luke's Home caused by this pandemic; however, we always focus on our Elders, our staff, and this community. I hope you and your loved ones remain healthy. We truly miss you.
Celebrating Independence Day with a Twist
Independence Day was full of sparkle with the St Luke's Home's Talent Show. Red, White, and Blue dazzled the room as performers and audience alike dressed up in their loudest patriotic attire. Elders and Staff recited patriotic poetry, showed off speedy puzzle skills, and got folks giggling with stand-up comedy, and of course, singing. The Karaoke was the biggest hit with seven melodic performances ranging from classic hits to toe-tapping sing-a-longs. Elders took home the Karaoke prizes with third place going to June who swooned the room with Can't Take My Eyes Off Of You by Frankie Valli and the Four Seasons. Winning second place, Eric rocked the house with The Letter by The Box Tops. The grand prize went to Sue, who sizzled the crowd with Fever by Peggy Lee.
Spirit Week Ends in a Splash
Once again St Luke's Home enjoyed Spirit Week, but on a whole different level. The Elders and staff enjoyed pajama day, western day, formal day, sports day, and especially BEACH day. Did you think us desert dwellers couldn't pull it off? Well, we did. We kicked off the weekend with beach day on Friday and boy were we ready for the weekend! We staged a fun-filled beach party in the west courtyard. Beach music! Water games galore! Prizes! Snow Cones! And most importantly, tons of laughter had by staff and Elders.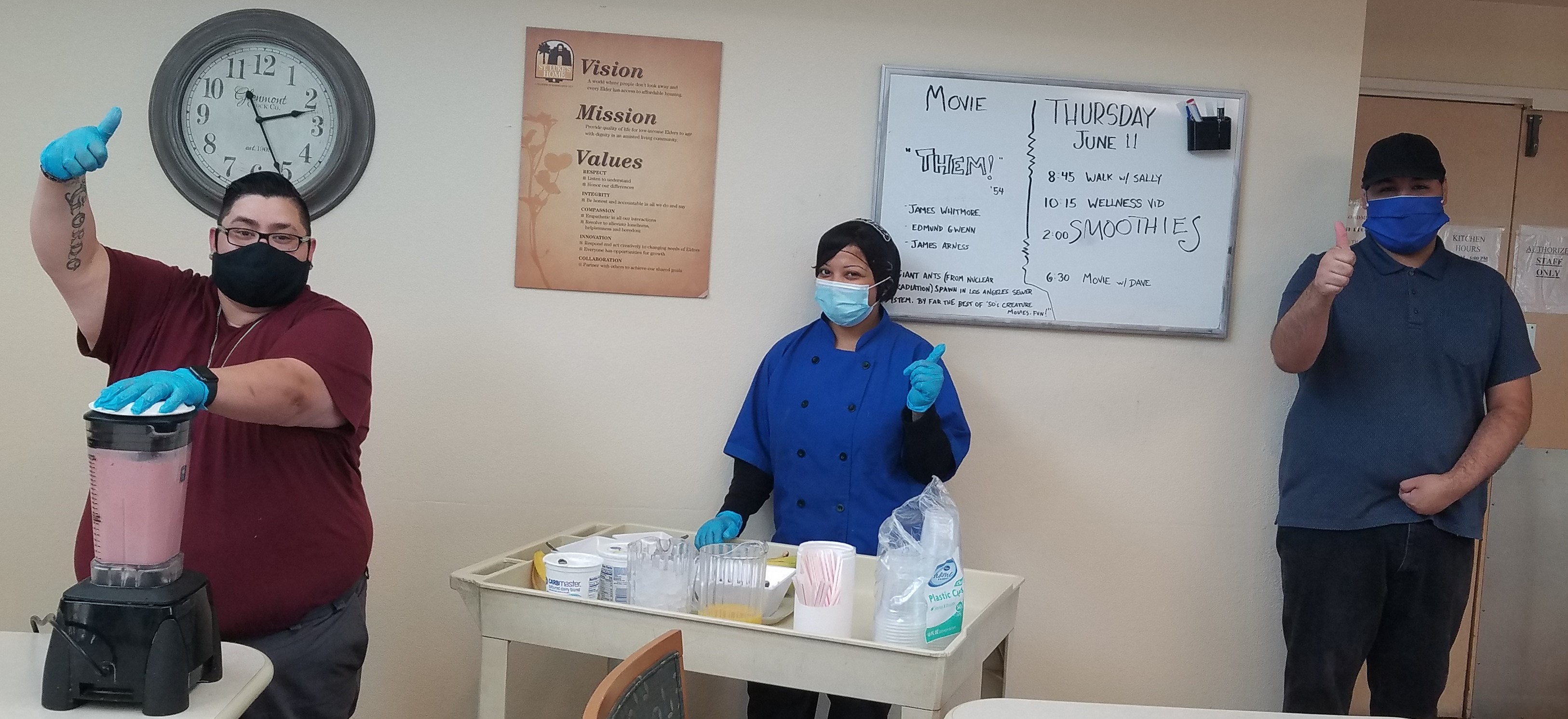 Smoothie Cafe
Ramping up our fresh fruit intake, a pop-up Smoothie Café has been a huge success. This was the first Smoothie for many and definitely the first time they dared to combine kiwifruit and peaches! Again, the dining room is great to set up a blender station and accompany the smoothies with classical music. We commend the Elders for their great attitudes and flexibility during these last few months. As one Elder shared, "We hate being locked up, but we are glad to all be together and safe."
St Luke's Home Silver Chef Culinary Competition Goes Viral!
St Luke's Home will be having the Silver Chef Culinary Competition! Due to COVID-19, we will have this important event in a new format for the safety of Executive Chefs, Elders, Staff, and Judges. We have partnered with MobileCause and we are very excited about what is to come. Although we will not be able to have a public tasting, we will instead live stream the competition and have information about the entries, their chefs and communities; important resource information for our public; and raffle prizes. We are very fortunate to have among our Elite Judges Chef Wendy (2019 Iron Chef); Chef Bruce Yim (Hacienda del Sol); Owner/Baker Don Guerra (Barrio Bread); Chef Devon Sanner (Downtown Kitchen); David Fitzsimmons (the AZ Daily Star); Lupita Murillo (KVOA); and Colleen Bagnall Parra (University of Arizona)! More to come as this event draws near. SAVE the DATE for your place in history! We will continue to keep you posted on how to participate in this great event!
Rio's Corner
Rio here, I know there is a great deal going on out in the world, but it is already July. Ahh the dog days of summer, they always seem to fly by! As per my usual, I am staying here in toasty Tucson. (Tucson puts a whole new meaning to "feel the burn"!)
For my holiday weekend, I lazed about, reading my inbox of emails. Today I'll be sharing a letter from one of my pen pals, a cool cat named Page. It appears that there is a new addition to the family and, as in life, there are adjustments to be made. Page writes:
Dear Rio,
About a year ago, my human adopted me, taking me out of a rough situation. Soon, she got me a collar and name tag; she named me Page! I am grateful to have a quiet little home filled with books and shelves on which to perch and climb. I can understand why my human likes to stare at books a lot, but I find it really confusing when she stares somberly at books with nothing written on the paper. She just sits there, pen in hand, looking at the stark white paper. I had to do something! I made it my mission to cheer her up by sitting and purring atop any blank page at which she pouts. It's a brilliant plan really because that led to cuddling and better moods for both of us! I thought I had found paradise… until the occurrence of a very disturbing development. Last month, my human adopted another feline!
INCONCEIVABLE! I was insulted. Were my efforts insufficient? Who is this young hooligan who climbs the curtains or pounces bare toes? What happened to civility, my sanctuary, MY human? I thought it intolerable, and my human resumed frowning at blank pages. In protest, I refused to console her, sure my message of disapproval would be understood. Instead, the little intruder tried to cheer her up by attacking the pen. (Amateur!)
A bit of time has passed, with the neophyte earning both collar and name tag—"Ink". In truth, she has grown on me, and I have a new role, an homage to my expertise. It took a few meetings to establish rules, but now we have a coordinated approach when our human frowns at blank books with an immobile pen. Our assignment is to interrupt with purring and play. Now, we all have a minute of group cuddle, followed by ample treat distribution and a toss of the toys…and then paper and pen begin to dance! I've learned writers need both: Ink and Page.
Your Purrrfect pals,
Page and Ink
Like I said, life is full of adjustments, Page and Ink undoubtedly give comfort and joy to their human, as I do to the Elders here at St Luke's Home. Adjustments can be difficult, but most can be managed by how you think about it. I am enjoying time with my friends here at St Luke's Home, there is no going to the beach or even going to my favorite watering hole for me. No, no, wouldn't be prudent…COVID-19 is here. I can still have fun in my own backyard. I need to do my part to keep everyone happy and safe—that is the hero in me. Hope you and yours are safe, keep social distancing, keep your mask on, be a hero…. This is reporter, Rio, signing off.
Follow St Luke's Home on Social Media!
Thank you for supporting our Elders!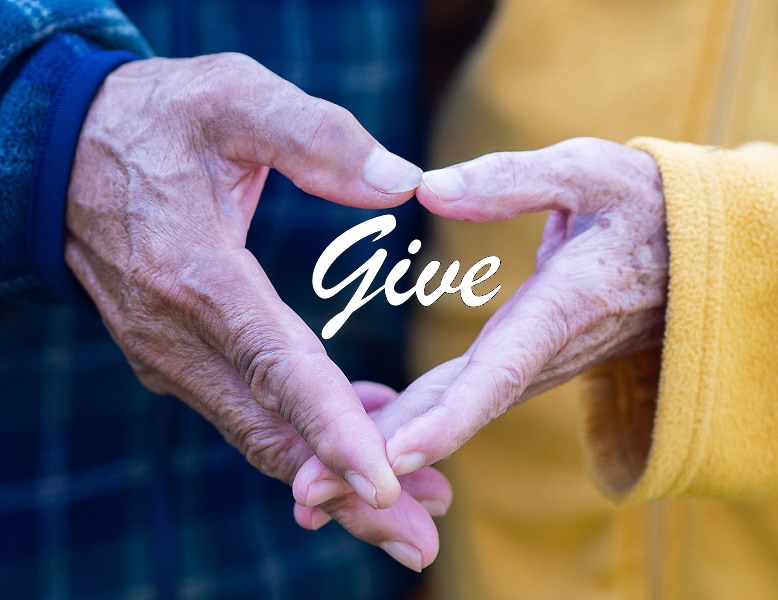 Your donations to St Luke's Home are deeply appreciated and easy to do.
Click on the picture above to make an on-line donation that supports the mission of St Luke's Home.
We appreciate your support!