St Luke's Home Newsletter
January 2021
CEO Report
Happy New Year, Friends!
2020 felt like the longest year on record because of the ongoing pandemic, but we made it through. It was tough for our Elders not to hug their loved ones regularly throughout the year and especially during the holidays, but they all remain free from the virus. We have missed our dedicated volunteers, but the staff continue to go above and beyond their normal duties to fill in the gaps as best we can. Without all the fundraising events, we saw some concerning financials, but our generous donors helped St Luke's Home.
2020 was a year of patience, compassion, and fortitude, and we made it! In this issue, I hope you enjoy the article with our Best of 2020 where we have gathered our favorite photos of our Elders in 2020.
Despite the nation-wide delays of the vaccine roll-out, St Luke's Home is working with our partners at CVS to remain firmly in the queue. We will continue to be cautious before planning any further in-person events; however, we are more hopeful than ever!
Although, it is difficult to be separated from our loved ones for so long, so we are looking for safe ways to bridge the gap. This year, we learned from our technological growing pains and plan to share more photos, videos, and stories of our Elders than ever before. Our hopes for 2021 are big and bright. We move forward with fresh strength and renewed resolve in our mission to: Provide quality-of-life for low-income Elders to age with dignity in an assisted-living community.
Donors Spread Holiday Cheer
Because of our donors, our Elders had a beautiful–albeit different–holiday season this year. In spite of COVID-19, there was plenty of cheer at St Luke's Home. With tree trimming and caroling and Santa's visit, the Elders were well-loved. A special thanks to all donors who brought gifts, decorations, and food for our Elders this holiday season!
Laddie Stewart Hall
Chris Strong of the National Charity League
Ginger Carter
Dianna Swensen of the Tucson Woman's Club
Sara Morris
McKenzie and Tom Crohurst
William Stewart
Sharon L Paluk-Benninger
Laura S Tanzer
Connie Melton, Tracey Rowley, Margaret Maxwell, Kim, and Elizabeth of the Junior League of Tucson
Aline Barbeau
Lisa Robinson and her two caring daughters
Diana Sheldon
The Cast and Crew of the Invisible Theater
Jyotsna Ghai
Carol and Leonard Miller
Frank Hamilton
Susan Via and Joseph Kranhold
Emily GreenLeaf of Home Instead
Ruth Campbell, Marsie Habib, and Lynn Van Sice of the Board of Visitors
Contessa Smith of Mary Kay and Associates
2020 brought some new adventures and challenges to us all, but there were a lot of good times too. Below are some of our favorite photos that did not make it into in previous news posts and are too special not to share. Happy New Year!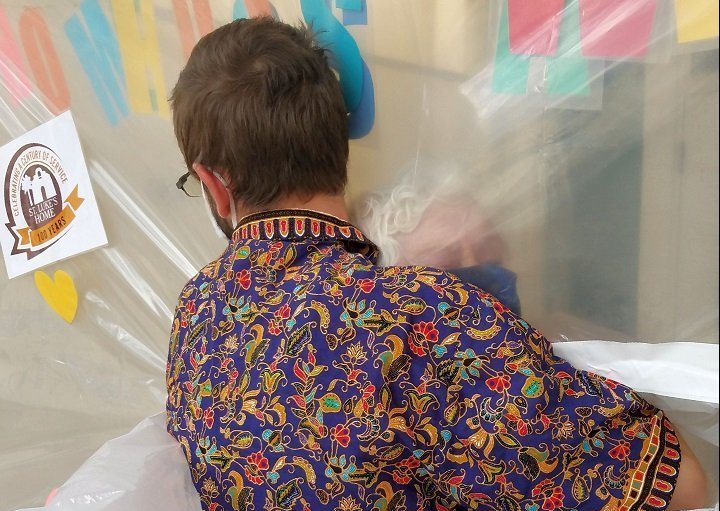 St Luke's Home in the News
Over the course of 2020, St Luke's Home was highlighted in the news several times. We also released a variety of videos for promotions and events. Click the links below to see some of our 2020 Videos.
Rio's Corner
Happy New Year, Friends!
This is the traditional time of menudo and fireworks in Southern Arizona, lentils or grape eating in Spain, wearing red underwear in Italy, or kissing in St Mark's Square in Venice, ringing Buddhist bells in Japan, painting doors or houses in China and Mexico, tapping heads with onions in Greece, eating
a stack of crepes in France, or eating a tall-layered cake with a bottle of wine in the center such as they do in Norway (I guess you need something to wash down all that cake), or even celebrating circles (eating oranges, tossing coins into round pans, wearing polka dots) as it's done in the Philippines. These are all wonderful and fun traditions. Yet the tradition we all know is surely the biggest tradition—making a slew of New Year Resolutions, and then breaking them one by one within 90 days. We've all done it.
I've decided to eschew that hallowed tradition and follow the lead of the "Happiest people on the planet"—The Danish people (people of Denmark, not those who love the sweets). Studies have consistently shown Denmark is the happiest country on earth. I believe it! I've known a few great Danes myself. They even have a Happiness Research Institute where scientists study the art of well-being and happiness and how to improve quality of life. Spoiler alert: many of their principles seem to match our Eden Philosophy here at St Luke's Home! They have a word for it—hygge (pronounced HOO-ga) which means well-being, but it's more than that.
Hygge includes the environment such as lighting placement, and the Dane's near-obsession with candlelight in homes, schools, and offices; it includes a work/life balance where people work their hours and leave on time; and it emphasizes relationships and togetherness. Danes truly and happily devote time to spend with family and friends in enriching, memory-making activities, or simply sharing a meal without their phones! Hygge strives for healthful eating, but still enjoys a slice of cake; it strives for health/fitness but exercise may take the form of skiing, walking or gardening, and then end with enjoying a candlelit dinner with friends or simply enjoying the sunset from a candle-lit window. However, hygge is much more than being about coziness and comfort, it's also an attitude—focusing on what is important in life and not simply getting more THINGS. Hygge focus is the cozy spot, your favorite socks, nice music, and the relationships which bring your life meaning. The Hygge "vibe" takes precedence over the food or drink at dinner.
What is hygge for you? Although we don't live in Denmark, there are ideas for us here. Work into your life something which allows you to share your joy with others, daily. Whatever it is—faith, writing, chatting, hiking, painting, gardening, reading, or savoring a fine wine—choose to invest in your world by increasing the happiness quotient of your entire pack. Danes refer to someone who spreads the hygge as a "hyggespreder". Now that's an idea that wags my tail! I could be Rio, Super Hyggespreder. (I bet you could be too! Well, except for the Rio part).
I am off to find some flameless candles and spread the hygge.
Hope to see you soon. High paws all around.
To learn more about hygge:
Wiking, Meik (2017) The Little Book of Hygge Danish Secrets to Happy Living. William Morrow/Harper Collins Publishing
Wiking, Meik (2017) The Little Book of Lykke: Secrets of the World's Happiest People. Harper Collins Publishing
Wiking, Meik (2019) The Art of Making Memories- How to Create and Remember Happy Moments. Harper Collins Publishing