St Luke's Home Newsletter
December 2020
Holiday Greetings from the CEO
Happy Holidays, friends. I hope you and your loved ones are healthy and enjoyed your Thanksgiving. For me, this time is for reflection and gratitude towards others. This year is no different; however, it puts things into a different perspective. As CEO, my foremost role has been to keep the Elders safe from COVID-19. With this decision has come many difficult choices. Love ones not being able to touch one another. Not being able to enjoy the familiar scent of one another or hear a clear voice without the static of technology. Sure we held a wonderful parade in May, the Hug Tunnel in August, and many telephone, video, and window visits. I truly understand it's not the same. I enjoy talking to everyone who has called and sent letters of well wishes. I hope we will be able to gain some type of normalcy in the New Year.
I want to send a heartfelt Thank You to an anonymous group called St Luke's Friends who sent me a lovely floral arrangement and beautiful card sharing support. Sometimes those kind words go a long way, especially during a pandemic. I wish you all a very safe holiday season. We do have a lot to be grateful for.
Thanksgiving Goes Viral – 1800 Views
Thanksgiving Eve was a hit this year! As the tradition goes, staff served our Elders a delicious traditional turkey meal. Our Elders were very pleased with the spread. In prior years, family would join us for this lovely day. This year was a tad different. We were alone; however, the elders and staff enjoyed games, singing, and reading poetry. The best part of the afternoon was seeing the Elders interact LIVE with loved ones during the Facebook feed and sharing the communication from the families back to the Elders via chat. This was truly priceless.
St Luke's Home Receives National Recognition
Congratulations to our own Selina Miramontes, Culinary Manager, who received the Premier Foodservice 2020 Light in the Storm Award. Premier reports, "2020 has brought unprecedented challenges to the foodservice industry and our members. Through these tough times, our members have stepped up to the challenge and done incredible work to take care of their employees, customers, communities, and more."
St Luke's Home's nomination included the fact that our Elders are free of COVID-19, our Hug Tunnel, Spring Car Parade, and Silver Chef Competition. Not exclusive, awardees included Appalachian State University, Aurora Advocate Health, Smuckers, and Nestle Water. Well done, Selina!
Thank You for Years of Dedication and Service
to St Luke's Home
In Memory
Mary Greene
6/7/1944 – 11/23/1920
Mary Greene passed away quietly and with family by her side on November 23, 2020. Mary was introduced to St Luke's Home during her active membership years with the Junior League of Tucson and generously served the home for the rest of her lifetime. Mary had an active role in St Luke's Home transitioning from a 26-room residence for older women to the current 61-room assisted living community for women and men. She served as President for the three corporate boards: St Luke's in the Desert Inc., St Luke's Home Inc., and St Luke's Board of Visitors. She was instrumental in realigning the roles and responsibilities for the three groups which resulted in a merger of St Luke's Home Inc. with St Luke's in the Desert Inc. More recently, she participated in a major bylaws re-write and update. Her creativity and flair contributed to the almost 20-year Sensational Settings fundraiser. In addition, Mary served as Chairman of the 1997 and the 2019 (100th Anniversary) Baile de las Flores. She also co-edited The St Luke's in the Desert Story; A Century of Community Service, a publication of the 100th Anniversary Committee. Mary was very proud of her association with St Luke's Home. Her obituary may be found here and memorial contributions may be made to St Luke's Home.
U of A Partnership Going Strong!
The students of the Colleges of Medicine and Pharmacy created a newsletter for the Elders. The newsletter includes medication safety and falls prevention tips along with a turkey coloring page and holiday crossword puzzle. The motivation for creating the project is to send love, hope, and positivity to the Elders who they have missed seeing this year. Typically, the students are part of the health education clinics that are held during the school year. Normally, we have close to 300 faculty and students facilitate six clinics. The topics are selected by the Elders and students during planning sessions. The opportunity to have hands-on learning in geriatric care benefits the Elders not only in care but in the experience to mentor students. Special thanks to student Pharmacy students Alison Weygint and Belle Soyfer.
Special Thank You to COVID Networks
COVID Networks is an organization that aims to bridge the gap between seniors and the rest of society, while also hoping to ease any difficulties seniors may be facing during these unpredictable times. Their purpose is facilitating interactions between seniors and high school students, fostering bonds that will last a lifetime while tackling the senior loneliness epidemic, and giving high school students a sense of purpose during this trying time. Student volunteers from across the country are performing ZOOM music recitals that are beautiful! Our partnership with this organization has reconnected St Luke's Home to the joy of music! We commend the organizers of the COVID Networks project for their insight in designing a holistic system that is so efficiently and effectively breaking through the silence of isolation of COVID. Thank you to the team at COVID networks!
Preparing for the Holidays
St Luke's Home is checking the list
If you are planning to buy poinsettias this holiday season, might we suggest purchasing beautiful, healthy plants at Green Things where a portion of your purchase dollars will come back to St Luke's Home. This time pick your poinsettias directly from the grower in person or on their website
The Green Things Elves created our very own landing page for St Luke's Home, including special certificates to inform Santa you support. You will be thrilled with the variety of beautiful and healthy poinsettias available this year! There are red jubilee poinsettias for a traditional look or polar bear white poinsettias for a snowier décor. There are also pinks, reds, whites, and even golds from which to choose. Thank you for thinking of our Elders at St Luke's Home and Happy Decorating!
3384 E River Rd Tucson, AZ 85718
520-299-9471
https://greenthingsaz.com/st-lukes-home
Keeping an Attitude of Gratitude
St Luke's Home has much appreciation and gratitude to spread around. First, we thank each of you Elder Heroes who responded so generously to our Fall Annual Appeal and the Giving Tuesday Campaign. Your compassion will ensure the mission of quality of life care for the Elders in our community, continues. This could NOT happen without your help.
Thank you also to The Denton Family Foundation for funding towards sponsoring an Elder and The Tucson Osteopathic Medical Foundation for funding to purchase additional tablets for Elder use! This is truly a blessing for us.
Finally, THANK YOU to Mayor Romero and the City of Tucson for the We Are One | Somos Uno CARES Act Nonprofit Continuity Grant facilitated by the Community Foundation for Southern Arizona. This funding will assist St Luke's Home by helping towards additional COVID-19 related costs. This funding is critical to maintaining safety during the pandemic for Elders and Staff alike. Hip-Hip Hooray!
Shop at Amazon Smile to Support St Luke's Home
If you register with AmazonSmile and choose St Luke's Home, much of what you purchase has Amazon send a little bit of money to St Luke's Home at no additional expense on you!
You can make a difference while you shop Amazon Prime Day deals on October 13 & 14. Simply click the link below to set up St Luke's Home in the Desert Inc as your chosen charity.
Click here to choose St Luke's Home as your Amazon Smile charity.
Thank you for supporting our Elders!
Use St Luke's Home for Arizona Tax Credit
St Luke's Home in the Desert Inc is an Arizona Qualified Charitable Organization (QCO) and your gift may entitle you to a credit up to $400 as an individual filer or $800 as a married couple on your Arizona State Tax Return. Our Qualified Charity Code is 20211. If you haven't already taken advantage of this wonderful credit, please keep the Elders of St Luke's Home in mind.
Photo by Karen Wright
Rio's Corner
T'was the night before Christmas
And all through the home
Not a creature was stirring,
Not even a gnome.
The socks were in hampers
Or kicked off near the bed
In hopes that the nightshift
Would do laundry instead.
I, Rio, was curled up
All snug in my bed
While visions of milk bones danced in my head.
And Linda in her PJ's at home, safe and sound
With her sweet pup Juna, asleep on the ground.
On the ocean, a skipper–our fair-headed Cass
Set sails to catch an elusive seabass.
Yurey was getting warm in his well-heated car
He'd just started for Phoenix— but not gone too far.
Selina had made her cookies for Santa,
But Santa was stuffed–and wanting Mylanta!
Jose had ensured the roof was all clear
For St Nick to land with sleigh and reindeer.
While out in the desert, while the big moon was waning
I awoke to sounds of wild beasts needing taming.
I opened one eye to see what was amiss,
My head was too sleepy to comprehend this!
Coyotes they were! They howled through the night
But were suddenly quieted by a wonderful sight.
The hero arrived with presents galore,
He tiptoed in silence
While the Elders did snore.
But who should spy on St Nick tapping his nose?
Why none other than
Teresa, and our very own Rose.
They squealed in delight just as St Nick was leaving
Sally ran in to see, soon she too was believing
In Santa so jolly, a gentleman so dandy
Thanking all for the goodies–especially canes from Candy.
Marie was outside for no rhyme or no reason
Singing the songs of this wonderful season
And as I turned over in my little bed
I heard only silence, was this all in my head?
I closed my eyes, and squeezed them shut tight
And then heard from afar…
"Merry Christmas to all, and to all a good night."
Follow St Luke's Home on Social Media!
Thank you for supporting our Elders!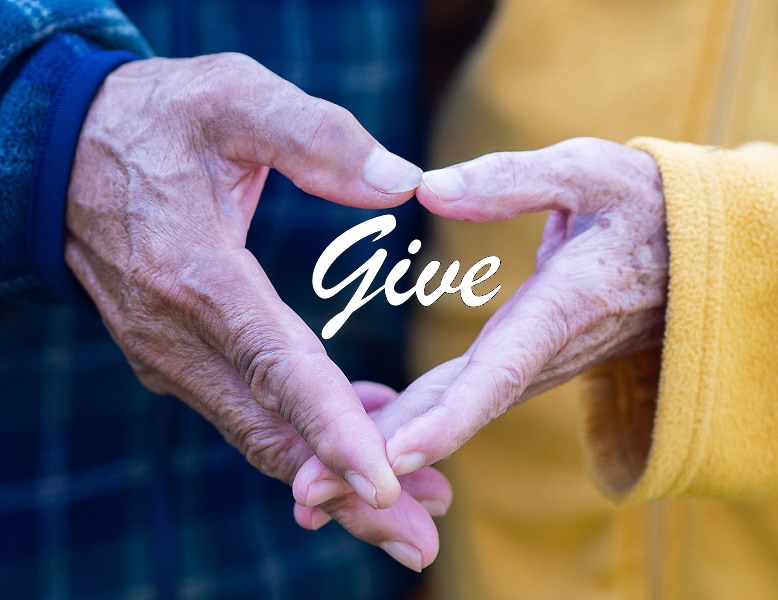 Your donations to St Luke's Home are deeply appreciated and easy to do.
Click on the picture above to make an on-line donation that supports the mission of St Luke's Home.
We appreciate your support!