St. Luke's Home Newsletter
December 2019 
Art Exhibit Builds a Special Bond
by Karen Wright 
"I don't like smiling on command." That was the response I received when I asked George if he would be interested in participating in the Don't Look Away Photo Exhibition. When I assured him that I would prefer to capture him naturally, George grudgingly said, "Check back with me tomorrow."
Little did I know that it would be the beginning of a wonderful experience. Returning the following day to photograph other elders, I found George in the hallway sporting a bright yellow shirt ("so you could find me"), more than ready for his turn in front of the camera. Unfortunately, his day had not started out so well, but the more we chatted, the more he relaxed. Of the hour we spent together, only about 15 minutes were spent photographing him, the rest was spent getting to know George. He acknowledged that having his picture taken was best thing that had happened to him in a long time.
When the event announcement featured his picture, George became an instant celebrity in the community. He told me that he had slyly taken a couple to share with his nephews.
It was my pleasure to meet and photograph several elders in St. Luke's Home to highlight their uniqueness and give them a chance to tell their stories. Sometimes just taking the time to listen can make a person's day.
Don't Look Away Photo Exhibition
Thank you to everyone who supported our Don't Look Away Photo Exhibit. It was nice to see Council Member Paul Durham in attendance, along with many family, friends, volunteers, and St. Luke's Home Board Members. A special thank you to our Photographers Kathleen Dreier, Martin Mongan, and Karen Wright for making this event possible. Also, thank you to Sally Krommes for curating the event. We also want to thank our volunteers – the National Charity League, Tom Kirchner, and the Music and Medicine Club. Last but not least, thank you to Mayfield Florists for donating the flowers for the centerpieces, Westpress Printing for absorbing the cost of the artist photo board, Photoworks for the discounted pricing on the original prints, and a special Memorial Contribution – In Loving Memory of John G. Reyna.
If you are interested in purchasing the original aluminum 20 x 24 photo or an 8.5 x 11 St. Luke's Home 2020 calendar, displaying all the photos of the Photo Exhibit, please contact Cass Eastham at adminassist@stlukeshometucson.org or 520-207-0805. The cost for the original prints are $300.00 and calendars are $35.00 plus for shipping and handling.
The Truth of St Luke's Home
St. Luke's Home's Corporate Name is St. Luke's in the Desert Inc.
During this time of year, we often see TV commercials, written materials, postcards, and social media postings asking financial support, donations, gifts, and offering AZ Charitable Tax Credits. We all have our favorite non-profits we support and to which we give generously.
St. Luke's Home is dedicated to providing quality assisted-living care through our fundraising efforts to cover the average "gap" payment of $10,500; the amount between what an Elder is able to pay, and the actual cost of their care. This totals $672,000 annually. Our Elders are former teachers, nurses, attorneys, accountants, speech therapists, ministers, and veterans, all of whom pay what they can with money from Social Security and other retirement funds to live in our community. They simply do not have enough money to ensure they receive the care they need in order to live out their lives in a high-quality, sustainable, healthy community. St Luke's Home programs keep Elders "Stronger, Longer" by focusing on nutrition, physical exercise, and many activities that promote cognitive vitality. These same programs may postpone or eliminate the need for costly government programs.
St. Luke's Home is an Arizona Qualified Charitable Organization (QCO). Your gift may entitle you to a credit up to $400 as an individual filer or $800 as a married couple on your 2019 Arizona State tax return.
Thanksgiving Dinner at St Luke's Home
The Elders celebrated Thanksgiving with family and friends at noon on Wednesday, November 27, 2019. The meal included tender, juicy turkey and ham, savory stuffing, creamy green bean casserole, buttery mashed potatoes, warm gravy, soft dinner rolls, and traditional pumpkin pie for dessert. The dining room was set-up family-style, allowing the St Luke's Home administrative staff, as well as our Board of Director's President, Michael McCrory, to serve each and every Elder and guest before sitting down to join them for lovely dinner.
Poinsettias Fundraiser – Final Days!
Please support St Luke's Home by purchasing your holiday poinsettias by calling Cass Eastham at 520-207-0805. Ask about pricing and available varieties. Orders due by Friday, December 6 at 4:00 pm. Pickup on Monday, December 10 between 2:00 pm to 5:00 pm at St Luke's Home. If you cannot order by Friday, please stop by Green Things located at 3235 E Allen Rd Tucson AZ 85718 or call 520-299-9471 and let them know your purchase supports St Luke's Home.
CEO talks with KXCI – Tucson's Community Radio
CEO Dr. Linda Hollis took the time to chat with Elva De La Torre, Host of KXCI's The Wire Service and Director of Outreach. The conversation focused on St. Luke's Home mission, vision, and programming. The interview will be aired from December 4 – 17 on 91.3AM per the schedule below or listen to the podcast here: KXCI Podcast of St Luke's Home.
Wednesday – 4:30 p.m. | Thursday – 9:55 p.m. | Saturday – 9:55 a.m. | Monday – 7:30 a.m. and 11:55 p.m.
Rio's Corner
Although Thanksgiving is now behind us, our gratitude continues as we think about the upcoming holidays. I thought I'd do a little investigative work and find out what makes St. Luke's Elders feel special during the holiday season.
Did you know that many of the St. Luke's Home Elders never had to dream of a white Christmas because it was their reality? Experiences of tobogganing, ice skating, snowmen, and snowball fights with siblings abound! As a desert dog, I can only imagine the fun of jumping in the snow and having the brisk air against my whiskers. Sounds wonderful to me, but I never had to shovel snow as a chore either.
Family and faith seem to be at the center of Holiday celebrations of our St. Luke's Home Elders. Many of the Elders described the family coming home from church or midnight mass with snow on the ground and stars in the sky. Some were permitted to open one small gift, others had to wait until after breakfast Christmas day, and others made their own rules. One Elder and her siblings would be awake at 4 am to amble down the stairs and see what Santa brought. They woke their parents later, out of consideration, of course.
What else was part of the joy in these families? Love. Some Elders told me of the love that poured out of the baking, the handmade clothing, or the handmade toys. Other Elders remembered the aroma of their mother's cooking and how it permeated the air. These delectable treats were described so vividly, I was literally drooling! One Elder described her father hunting from the upstairs window for a pheasant for their Christmas dinner. Many human treats were placed in lovingly hand-sewn Christmas stockings, filled with nuts, small coins, candy, oranges, socks, and small toys. Love was in the activities: families decorating together or piling into a car to go to grandma's house. Love was shared through Christmas caroling, being part of Christmas pageants, or catching a movie on Christmas day long after the presents were opened and the food was shared.
Elders smiled as they remembered favorite toys, but no one spoke of hordes of presents. It was simple, maybe one or two things which brought joy, the time with family and friends, the time in worship, the food and the special traditions—but mostly it was about love. I think I will take a nap now to dream of these wonders and to wish all of my readers a very Happy Holidays. On behalf of St. Luke's Home Staff and Elders, we hope you feel the love of the season deep in your heart.
St Luke's Home — Upcoming Events
Arizona Builders Alliance – Volunteers through the ABA will be working to upgrade and beautify the St Luke's Home property. – Saturday, December 7 at 9:00 am.
Past Time Players – perform in full Christmas costume. This group of high school students will sing and dance on – Thursday, December 12 at 11:30 am in our dining room.
Doccapella Sings! – A chorus of faculty, doctors, and students of the U of A celebrate the holidays her in our Chapel on – Friday, December 13 at 3:00 pm.
Card Making – with the members of the Junior League! Create wonderful cards for your friends and family – Saturday, December 14 at 9:00 am. 
Tucson Desert Harmony Chorus – perform our favorite songs of the holidays on – Monday, December 16 at 2:00 pm.
Christmas Meal and Celebration – Monday, December 23 at 12:00 pm.
New Year's Celebration – Tuesday, December 31 at 12:00 pm. 

Follow St Luke's Home on Social Media!
Thank you for supporting our Elders!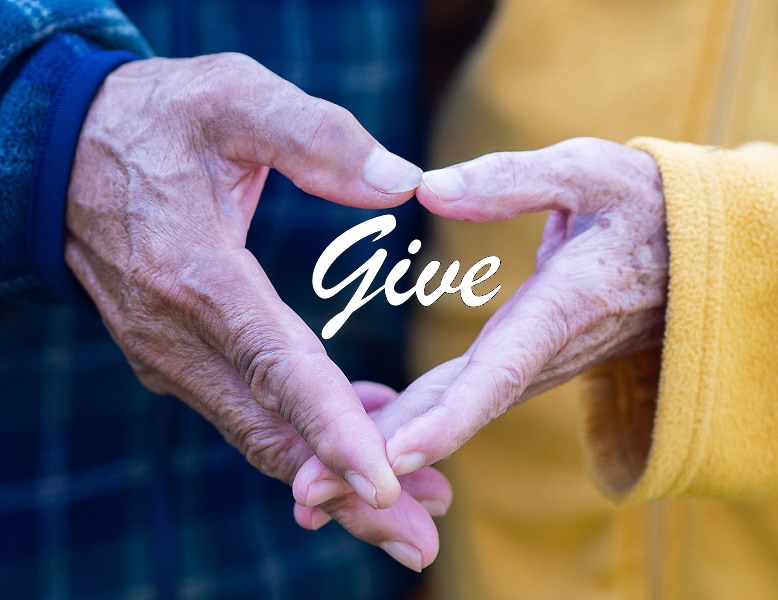 Your donations to St. Luke's Home are deeply appreciated and easy to do.
Click on the picture above to make an on-line donation that supports the mission of St. Luke's Home.
We appreciate your support!