St Luke's Home Newsletter
August 2020
Congresswoman Kirkpatrick Recognizes
St Luke's Home CEO
We all felt a surge of pride when our CEO, Linda Hollis, received the following letter which said, in part:
"Congresswoman Kirkpatrick would like to recognize you as one of her heroes this week for all of the work you do as the CEO of St. Luke's Home. We appreciate all of the hard work you have put into assisting low-income Elders with their living situations. We also acknowledge the amount of effort you have put into ensuring the safety and well-being of the Elders and the staff, despite the extra expense and financial stress it has put on the organization.
We want to thank you for your diligence in studying the effects of the pandemic and noting how profoundly it could wipe out assisted living communities. The research you conducted that prompted you to review CDC recommendations, as well as your swift action to put together a plan, created a safe space for your community members. It also ensured that no Elder tested positive. We greatly appreciate all of your efforts and would like to acknowledge them. We know how important your work is, and we're especially proud of the output during the age of COVID-19!"
Christmas in July
St Luke's Home pulled out all the stops for a "warmer than usual" yuletide celebration. Sparkling décor brightened the home, but none so fitting as our Elder-decorated Christmas tree. As toes tapped and hands clapped to the holiday music, all nibbled snacks of colorful Christmas cookies, Rice Krispy treats, red and green popcorn, and delicious hot cocoa. Elders sang Karaoke of holiday favorites, including June's silly performance of Grandma Got Run Over By A Reindeer by Elmo and Patsy where everyone sang along! Elders won gift-wrapped prizes by working their thinking caps at holiday trivia and memory games. Some said the best part was not having to worry about cards or gifts, but the best part was seeing Santa Claus in July! It was a true celebration of St Luke's Home family, friends, and fun.
The University of Arizona Wraps Up Summer Program
A collaboration with the U of A College of Nursing created opportunities for Elders to Buddy Up with students. The Arizona Nursing Inclusive Excellence (ANIE) Program provided iPads for Zoom chats with our Elders during June and July. This was the first Zoom experience for all of the Elders. Student surveys gave the program high praise.
"It allowed me to think about answers to ask and gain a lot more experience in a patent care setting."
"It was truly amazing!"
"I did not understand how rich older people's lives were. It made me interested to talk with my grandparents about their history."
For the Elders, they report it was comforting to have an outside friend now. They were proud to have contributed to the education of the students. Students created personalized gifts for everyone. All involved strongly agreed they would participate in future intergenerational programs.
Take THAT Covid!
The fight against the novel coronavirus continues at St Luke's Home. The COVID-19 piñata was a great way to have the Elders express their true feelings about the virus while having a bit of fun.
"That felt so good! I had a lot of frustration to get out and that helped."
The Elders took some good hard swings and there was a lot of cheering for every good hit. With visitor restrictions ongoing for five months, we completely understand the desire to beat up a COVID-19 piñata. Requests for another piñata are rolling in and luckily there are more where that one came from. St Luke's Home may have started a new type of therapy – "Piñata Therapy"!
Photo courtesy of CNN
St Luke's Home Hug Tunnel – Help Give Our Loved Ones a Hug
St Luke's Home is excited to build our own version of Brazil's Hug Tunnel for our Elders and their loved ones. Click here to read the CNN Article. We believe this tunnel is vital for both Elders and families while promoting a critical part of our mission to provide quality of life care for our Elders. Moreover, this tunnel will promote St Luke's Home Eden Alternative care philosophy by helping to alleviate the identified "plagues" of Elders: helplessness, boredom, and loneliness. It is well documented that all of us, particularly our Elders, need companionship and touch from those we love. All of us at St Luke's Home cannot wait another five months for a hug!
In order to create a safe and sterile hug tunnel for our Elders, we need your help. The cost of building this tunnel is significant, with estimates ranging from $600.00-$700.00 dollars. We are asking you, our friends of the Home, to help us with the cost by donating to the COVID-19 Relief Fund. We appreciate any amount. In the event we raise the funds to cover the cost of the tunnel, the remainder of the funds will help replenish the rest of the COVID-19 Relief fund which is critically depleted. You may donate online at stlukeshometucson.org/donate or call Cass at 520-207-0805. Thank you for your generosity. We can't wait to give you a hug!
Rio's Corner
Rio here. I'm taking a moment to talk about what I have observed since COVID came to town. It is very distressing to not have all my friends visiting me and the Elders! The volunteers just aren't here, and the people who came to visit me can't come in. I know all of you miss me terribly and I am sure you miss the Elders too. Fear not! I am giving comfort to our mutual friends here until you return and give comfort to both of us.
But it has been a little "different" around here. When I saw the Elders beating the heck out of COVID piñata, my first thought was "How come when I do that to my toys I get into trouble?" But that was quickly replaced with: "Why do their toys come with treats inside? All I get is a squeaker and a mouthful of cotton balls! Still… the Elders really seem to have enjoyed it. That's puzzling for an inquiring mind like mine.
Even more puzzling is the holiday lights, music, and ornaments and such. I guess I'm getting older, because time is really flying by. It didn't seem like that long ago we had the holidays here. Then Sally told me they were doing a special Christmas in July (thank goodness I didn't miss a half a year)! Who knew? Sally says it is all in keeping our Elders spirits up and showing them the love they deserve. I can support that.
Speaking of love, I couldn't wait to try out the tunnel of love aka the 'hug tunnel'. Then I found out it will just be for humans. (Sigh). Nevertheless, I decided to do some research to see why this hug tunnel is such a big deal. It turns out touch is very important. Research online is filled with the benefits of touch. Want some good vibrations? Did you know that touch releases oxytocin which helps humans "connect" and is associated with "good feelings, well-being, and trust"? Touch also boosts immune systems and lowers blood pressure. But that's not all friends, no… Touch also increases levels of dopamine and serotonin (two important neurotransmitters) which help regulate mood, relieve stress, and anxiety. There's tons of scientific research on it! Thank you to all of you who will help our Elders have a touch of love from you by giving to the COVID-19 Relief fund for the St Luke's Home version of the hug tunnel and all things COVID.
As a final note, I have to share the research I read indicating pets are good for touch therapy. (I knew it!) Therefore, I sincerely, and scientifically, suggest you hug your dog or cuddle your cat TODAY! I would leave the fish in the tank, however.
Follow St Luke's Home on Social Media!
Thank you for supporting our Elders!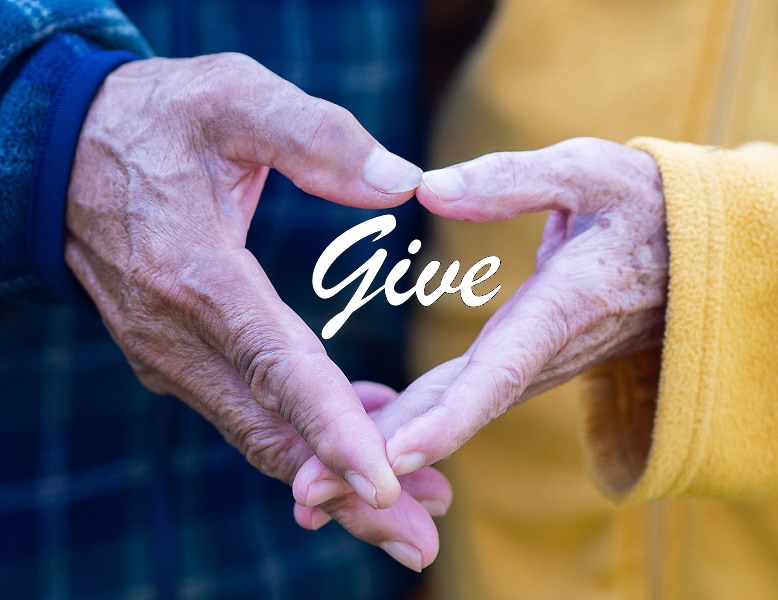 Your donations to St Luke's Home are deeply appreciated and easy to do.
Click on the picture above to make an on-line donation that supports the mission of St Luke's Home.
We appreciate your support!