St Luke's Home Newsletter
April 2020
CEO Message
One year ago, I stood in front of many of you at the 100th Baile, sharing my enthusiasm as the incoming CEO of St. Luke's Home. Since that time, we have achieved many successes; however, we are currently faced with one of the most significant and unprecedented challenges, not only at the Home, but throughout the world.
On March 11, 2020, St Luke's Home implemented strict and early precautions to prevent COVID-19 from entering our Home. At this time we have been successful in keeping our Elders and Staff healthy. As I recently left my office after work,  I witnessed a guest sitting on a folding chair, talking to her loved one through the glass doors. This was a very endearing moment, yet as a CEO, very tough to experience.  St Luke's Home is committed to following the CDC guidelines and have ongoing communications with our Licensing Agency – Arizona Department of Health Services. While we are abiding by all licensing guidelines, this week we took an extra step mandating all Staff to wear masks during their shifts.
Words cannot express my gratitude to all the Staff at St. Luke's Home. They continue to come to work and provide kind, compassionate, and selfless care. As I thank all staff for their continued commitment to the Home, I want to personally recognize Sally Krommes, as one family member communicated "I understand that you went above and beyond the call of duty to help my grandmother get reconnected to the internet via her tablet. Thank you from the bottom of my heart. You restored her connection to the outside world. At nearly 99, she has embraced social media and keeps in touch with almost 100 extended family members." Thank you Sally!
St Luke's Home Spring Cross Country Classic 5K
The early morning sun beamed down on hundreds of energetic participants as they crossed the finish line at Lincoln Park on March 7th. We enjoyed collaborating with The Southern Arizona Roadrunners on this successful event, registering 304 participants. We ran, walked, ate pancakes; we laughed, cheered, petted donkeys, and the kids bounced around in the jumping castle. Thank you to Monica Bermudez, the Race Director; Right Sure for  being our lead sponsor, and Doolen Middle School Fit Kidz for helping pack the goodie bags with the Elders and pass out waters at the last station. We also want to thank all the volunteers who made the event a success. We are already looking forward to the next Fun Run in the spring of 2021. See you then!
Staying Active!
Spirits remain high after weeks of staying at Home. We miss our volunteers leading the various classes and groups, but many Elders are rising to the occasion to ensure we remain active.
Nancy and Eric lead exercise classes, demonstrating the steps they learned from our Volunteer instructors. Virginia and Fredda host art projects. Jeanette and Judith spearhead Walk the Block. Dave hosts nightly viewings for our movie lovers. Puzzles stations are alive with action. Games such as Uno and Scrabble are everywhere, ready for a match. Other stations have become artist corners where Elders are coloring and drawing their own masterpieces to send to their grandchildren and family members. We are blessed to have two Elders who are talented musicians and serenade us daily on the piano with melodies of ragtime, oldies, classical, or hymnals, bringing the sense of beauty and harmony.  
Of course, we still miss our amazing Volunteers and student partners! You are all in our thoughts and prayers, and we look forward to the day we can open our doors and see you again. In the meantime, St Luke's Home community is rallying together in the spirit of family!
Donor pledges the first $100 to start St Luke's Home COVID-19 Response Fund
"I hope that other friends of the Home will come forward with their own gifts to shore up funding during this critical time." ~Donor
Thank you to our many friends who have contributed generously to the St. Luke's Home COVID-19 Response Fund which was started by an anonymous donor. Inspired by that first pledge, St Luke's Home Board President, Michael McCrory, asked for 100% giving from the wonderful St Luke's Board of Directors to contribute to this life-saving project.
Please note the CARES Act provides a new universal tax break for charitable donations. This means, in 2020, taxpayers will get an above-the-line deduction up to $300 in charitable donations. This provides a win-win for both taxpayer and your favorite nonprofit – St. Luke's Home! Now is the perfect time for you to take advantage of the "above-the line" opportunity.
Your kindness and generosity directly impacts the lives of our Elders. May the goodness you give to our Elders be returned to you ten-fold. Please visit our website today to Donate online, or call Cass Eastham, Executive Administrative Assistant, at 520-207-0805 to make your special gift to the Elders of St Luke's Home.
April Kicks Off The Weekly Page
Marilyn Gustin, President of the Elder Advisory Council, has launched The Weekly Page; a periodical for Elders by Elders to share ideas, tidbits, and welcomes. The idea came when Marilyn thought how to best help her neighbors. She looked for a method to share things like favorite quotes and thoughts to consider. The favorite section of the Elders is the Person of the Week article, in which Marilyn interviews and highlights a different St Luke's Home Elder in each issue. Thank you, Marilyn, for volunteering this effort to strengthen our community through fun communication!
Celebrating Spirit Week April 13 – 17
Although the Elders are keeping busy; without the comings and goings of family, friends, guests, and volunteers, it is quieter around the Home. Thus we decided to liven up the mood and get silly! St Luke's Home will celebrate Spirit Week! We ask our friends at home to participate and post to our Facebook page. 
AZ Tax Credit Deadline for 2019 Approaches
Although the IRS has postponed the deadline for filing taxes, the last day to file your Arizona 2019 Tax Credit is still on Wednesday, April 15, 2020. St Luke's Home in the Desert Inc is an Arizona Qualified Charitable Organization (QCO) and your gift may entitle you to a credit up to $400 as an individual filer or $800 as a married couple on your 2019 Arizona State Tax Return. Our Qualified Charity Code is 20211. If you haven't already taken advantage of this wonderful credit, please keep the Elders of St Luke's Home in mind.
Rio's Corner
Rio here! As a dog, I know the value of companionship. I feel it keenly perhaps even a bit more than my human friends do. For the past few months, I've made some nice friends by virtue of pen pals. Two of my pen pals are twin sisters (vets call them "litter mates"), Sophie and Annabelle. They are a couple of golden retrievers with a penchant for a wee bit of mischief but are filled with love, ready smiles, and synchronized tail wags. While sharing stories of mischief from our bygone days, the golden girls told me of a time they were pups and their favorite games were tug-of-war related. No matter the object, it was all fair game. They recalled a time when their inexperienced human thought the pups were worn out and fast asleep, so instead of putting them in their crate, she decided to "let sleeping dogs lie". HA! The moment the pups heard the click of the doorknob latch, their eyes were WIDE open and puppy pandemonium ensued. Although their human was only five minutes at the neighbor's house, these girls wasted no time. They pounced upon the big soft pillow on the new cream couch. It smelled very interesting indeed! It was a down pillow.
Let the games begin! Suffice it to say, the girls report they ALL learned their lesson as their human was decidedly less happy about the floating feathers in the air than they were. I think we have all had the universal experience of getting "the mom" look. It's as real for us, as it is for you. It's true, puppies should not be left unsupervised. And it is never a good idea to eat the new furniture. But really, who hasn't enjoyed a good pillow fight?
I bring up my pen pals because I know how much I love getting mail and hearing from friends. So, I wondered if you would be a pen pal to the Elders. This month I'd like you to:
Tell a story about When Mischief Found You when you were young. 
You could send them via email to: penpals@stlukeshometucson.org. I will read them all, share all of them with the Elders, and post the most mischievous of all in next month's newsletter. This will be a lot of fun! I can't wait to hear the stories. I know these Elders have a bunch to share because, between you and me, some of them are still mischievous. My tail is wagging already. Let the mischief memories begin! 
Follow St Luke's Home on Social Media!
Thank you for supporting our Elders!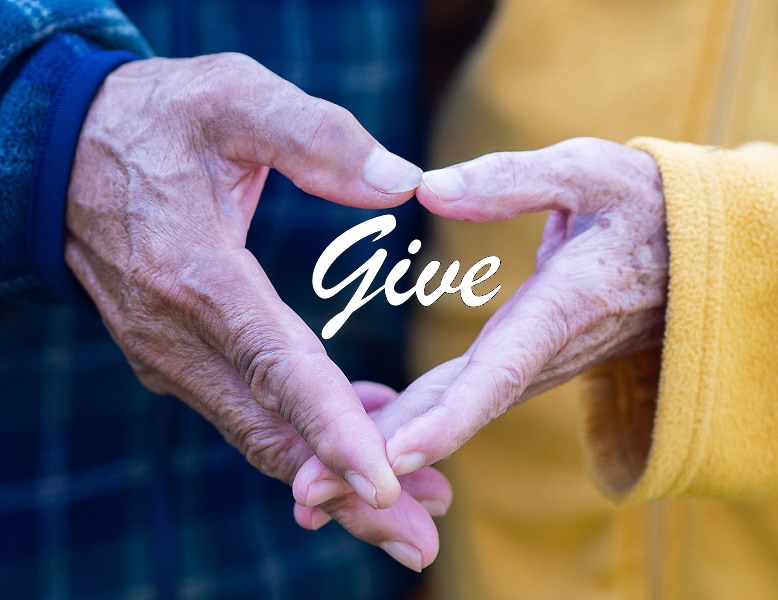 Your donations to St Luke's Home are deeply appreciated and easy to do.
Click on the picture above to make an on-line donation that supports the mission of St Luke's Home.
We appreciate your support!